Story and Photos by James Walker

"Classy, not brassy" is how Maggie Brown's gig at the weekly Hyde Park Jazz Society's set last Sunday was appropriately described by a colleague of this writer. Performing before another packed house, Ms.Brown, a virtuoso, was backed by the very solid rhythm section consisting of pianist Sean Wallace, drummer Frank Seabrooks, bassist Jeff Harris and the dynamic guitarist Dejuan Jones (much more about him later).

Maggie, the daughter of the late Oscar Brown, Jr. has transcended limitations and genres, while still maintaining her unique unmistakable voice. She continues to amaze her expanding fan base and never ceases to enhance the public's vision of what music is all about today. She talked about growing up in a household full of musicians with eclectic sounds that broadened her musical appetite at an early age. Although currently considered a jazz singer, she would throughout the evening demonstrate her skills at jazz standards, classics, blues, or R&B. By the reaction of those still around beyond the normal 11:00pm ending time, she was still "on top of her game" to the end.


At the onset of the three and one half hour performance, it was quiet apparent that this could be a very special evening of music. Maggie's band mates, led by fleet fingered guitarist Dejuan Jones and the energetic quick hands of drummer Frank Seabrooks, wasted little time warming up the audience with a very nice opening number. That piece concluded with a stirring solo from newcomer Seabrooks. Jones, as would be the case throughout the evening, gave the audience a sample of his Jimi Hendrix/Carlos Santana style of stroking the guitar.

During the first set, Maggie admirably sang ballads and standards like Sade's "Nothing Can Come Between Us," newcomer Chrisette Michele's "Love Is You," "Moonlight in Vermont," and "You Don't Know What Love Is." In addition, she honored both her dad and the late poet Gwendolyn Brooks with a song entitled "Elegy." This was a Brooks poem that Oscar added music to. Usually, he did the opposite, creating lyrics for melodies. It was during this number that guitarist Jones began using his instrument to "talk back" to Maggie. His background chords were mellow and a perfect accompaniment to Maggie's words. He also had an extended solo during this song. He's been with Maggie for over 20 years and they work so well together. The public needs to hear more from this exceptional musician.

Speaking of Oscar's lyrics, Maggie concluded the first set with "All Blues." Oscar put lyrics to this Miles Davis classic and also infused it with words to Charlie Parker's "Blue Bird" and Thelonious Monk's "Blue Monk." Ms. Brown seamlessly wove all three together with such conviction and emotion. This tune brought the audience to its feet with a rousing ovation.

The second set began with another exceptional intro by this outstanding band. Keyboardist Sean Wallace (a longtime veteran with Maggie and collaborator on her forthcoming CD) and Jones picked up on each others ideas with some playful bantering before Jones concluded this piece with a nice extended "Jimi Hendrix" like solo. What a way to get the crowd back into the mood.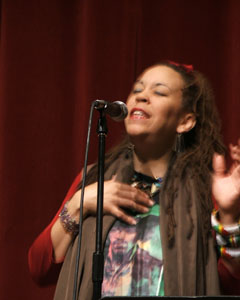 Maggie's first selection of the second set was Stevie Wonder's "The Real Thing." This selection appeared to be slightly out of Maggie's natural range. Nevertheless, it was one of the biggest audience hits of the entire evening. The crowd simply went "wild" as Maggie jammed during this upbeat song. Her charisma and charm was quite apparent during this number. In addition, Jones wowed the crowd with another compelling solo.

Maggie's not just a singer, she's a performer. This was demonstrated on her version of "Miss Celie's Blues" from the play "Color Purple." She's very convincing singing this song, as her theatrical background was illustrated.

On this night, Maggie was at her best singing standards like Nancy Wilson's "Don't Go To Strangers," Billie Holiday's "Don't Explain" and Abbey Lincoln's "Wholly Earth." In addition, Sade's "Is It A Crime" also captivated this spellbound crowd. She concluded the second set with another beautiful ballad, "Here's to Life." This well done standard necessitated another standing ovation from this appreciative crowd.

During the final set, Maggie decided to really have some fun by singing a Prince song, "Nothing Can Compare to You." She nailed this one also with the able assistance from Jones as he unleashed his staggering strings with reckless abandon. Ironically, during the evening, Jones had to stop playing twice to repair broken strings on his 'overworked' guitar. He indicated to this writer that in all the years he's being playing, he's never had to repair TWO strings during the same gig. Nevertheless, being the accomplished musicians that they are, this did not deter them from the task at hand.

Maggie ended this spectacular performance by involving the audience in the final song, Roberta Flack's version of Carole King's "You've Got A Friend." What an appropriate ending, for on this evening she certainly was in a "zone" singing before many of her friends in her "backyard" at the Checkerboard. Maggie and her band mates simply mesmerized the capacity Checker Jazz crowd all night long as she sang so beautifully. Somewhere in the heavens, this writer is sure that Oscar Brown , Jr.is smiling with approval.

Next week's Checker Jazz set promises to be one of the year's highlights. Veteran pianist "Southside" John Wright will bring his baby grand to the Checkerboard for a very special evening. This set is being billed as a "Black and White" affair that will give all an opportunity to come" dressed in your best," as was the case back in the day when Jazz ruled the South Side. For details, refer to Checkerjazz.org.

Editor's Note - Maggie also gave a talk and demonstration at the Harold Washington Public Library - some photos from this wonderful event are included here as well.