Story and Photos by James Walker, Jr.

While participating in the Avon Walk for Breast Cancer this past weekend, this writer wasn't sure if he would be physically capable of covering the Miles Davis tribute at the Hyde Park Jazz Society's weekly Checker jazz set. During the two day, 39 mile walk there was plenty of time to think about just surviving this grueling experience and finding a nice hot bath and bed. But then, recognizing that the virtuoso trumpeter Corey Wilkes was paying homage to one of America's greatest musicians, it became a easy decision and gave this writer inspiration to complete the marathon and a half. It turned out to be a wise decision for Corey had assembled some of his favorite musicans to assist in this very important task.

This set not only was a tribute to Miles Davis, but also became an introduction to many in this standing room only audience, to a group of exceptional young musicians. Sure, this crowd came to primarily witness the explosive sounds of Mr.Wilkes, but most also left with a greater appreciation for young 'veteran' bassist Junius Paul, saxophonist Marqueal Jordan, explosive drummer Makaya McCraven and phenom keyboardist Greg Spero. Each held his own, and demonstrated exceptional skill. Miles would have been very proud of these young "cats" as he was always "pushing the envelope," seeking new experiences, and keeping his music fresh. Although he was considered an eccentric, he was always forward thinking and never wanted to take steps backward.

They began the set with the standard "Autumn Leaves." Leader Wilkes opened with a mellow muted sound emitting from his golden trumpet followed by nice level solo by saxophonist Jordan. Spero then gave the audience a sample of what would be a constant the entire evening as he immediately got everyone's attention with a vibrant solo. Spero continued this mode on "Half Nelson" and by now, he has the crowd buzzing. They are beginning to recognize that this young man is truly special. Also on this number, Junius Paul connected with the crowd with the first of his many solid solos on his upright bass. Paul continues to grow and seems to develop with each performance. He has earned the reputation as one of Chicago's finest bassists.

Miles' "Move," taken from his early "Birth of the Cool" album, was started with a drum introduction from Makaya McCraven. Makaya,recently returned to Chicago after spending a month in Paris France performing with his father (also a drummer) and saxophonist Archie Shepp. Wilkes seems to have Miles movements in addition to his sound on this song. Spero's at it again on the 88s. He's running up and down on the keys with fluidity and speed to the delight of all assembled. He's in such control of his instrument, usually playing without even glancing at the keys. Paul again is standing out, while first only playing in the background, and ultimately on an expanded solo. During this segment, he alternated snippets with McCraven engaging in friendly bantering. This piece was well received by the audience.

They concluded this 90 minute set with "If I were a Bell." All ensemble members stood out during this number and received a well deserved standing ovation. The band and audience alike seemed to have really enjoyed this first set.

The second set was a continuation of Miles's timeless music by this ace band. One of the highlights was the play of Wilkes on "All Blues," perhaps one of Miles' most covered pieces. Bassman Junius Paul introduced this number with uncanny speed and horn like facility while seeming to gain energy and ideas as he forged ahead. This writer has previously observed Paul kick start this number and he always keeps it fresh.Not to be overshadowed, front man Wilkes stunned the crowd with his blazing chops which brought the crowd to its feet. In addition, Spero continued to display quick hands which allowed him to improvise and react instinctively to the leads of his colleagues.

The night had a couple surprise guests , as seems to be the case each week at Checker Jazz. Corey's "partner in crime," Maurice Brown, trumpeter extraordinaire, arrived with horn in hand. As usual, Maurice is always prepared to jam "on the spur of the moment". Blowing fast, bright trumpet flourishes on top with his signature bold attack on each note, Mo had the crowd yearning for more. It's always a pleasure watching him perform ,for he's so energetic and his play is infectious. He appeared to inspire Spero as Greg hopped back and forth between his arsenal of keyboards occasionally playing them simultaneously.

Finally, this evening was brought to a successful conclusion with a final flurry from dynamic Maurice Brown on "It's About That Time." The band was joined on this number by tap dancer Lisa La Touche. This young dancer placed an exclamation point on this finale, as all left this three plus hour evening of vibrant entertainment completely satisfied. Included in the audience on this night were some of Chicago's finest musicians: vocalist Dee Alexander, bassist Frank Russell, drummers Leon Joyce, Jr. and Demerise Vaughn, pianist Bethany Pickens and veteran trumpeter, Sonny Turner. As you can see, Checker jazz is not only a place where musicians come to play, but also where they come to enjoy great music being performed by their fellow colleagues.

The Chicago Jazz Orchestra featuring vocalist Frieda Lee will be at the Checkerboard this Sunday. Please refer to the Checkerboard's website at www.checkerboard.org for a detailed listing of future events.
| | |
| --- | --- |
| Corey Wilkes | Marqueal Jordon |
| | |
| --- | --- |
| Greg Spero | Makaya McCraven |
| | |
| --- | --- |
| Corey Wilkes & Marqueal Jordon | Greg Spero |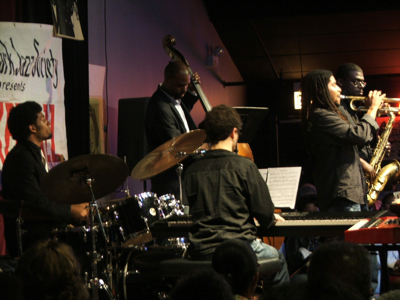 Corey Wilkes & Maurice Brown
| | |
| --- | --- |
| Marqueal Jordon | Makaya McCraven |
| | |
| --- | --- |
| Corey Wilkes | Greg Spero |
| | | |
| --- | --- | --- |
| Junius Paul | Maurice Brown | Lisa La Touche |
| | |
| --- | --- |
| Greg Spero | Checkerboard Lounge |
| | |
| --- | --- |
| Marqueal Jordon | Greg Spero |
| | |
| --- | --- |
| Junius Paul | Greg Spero |
| | |
| --- | --- |
| Marqueal Jordon | Checkerboard Lounge |
| | |
| --- | --- |
| Corey Wilkes Group | Junius Paul |
| | |
| --- | --- |
| Lisa La Touche | Corey Wilkes |
Check out all our concert coverage in our archive

Contact James Walker, Jr. and JazzChicago.net at jwjazz@awb.us