Chris Greene Quartet
Soul and Science 2 - Electric Boogaloo
CD Release

Katerina's
Chicago, IL
Wed. June 11, 2008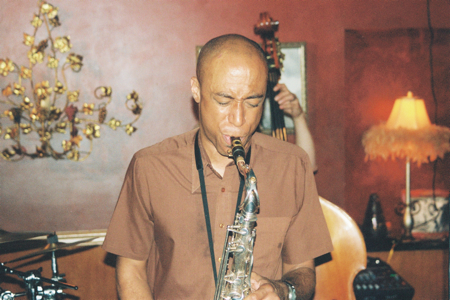 Chris Greene



Story and Photos by Brad Walseth

Wednesday night at Katerina's, that classy little establishment at 1920 W. Irving Park Rd., saw local favorites the Chris Greene Quartet perform in support of their new release - "Soul and Science Volume 2: Electric Boogaloo." This group has been packing the crowds into clubs with their addictive and energetic sound that mixes straight ahead jazz with modern sounds and funk. Their well-received "Soul and Science - Volume 1" release (see our review here) has garnered airplay and great reviews, while attracting new fans to the sound. The new release takes off where the last one left off, continuing the sound they championed on volume 1, but with an even tighter sound that hints at the growth the group is experiencing.

On this night, Greene wowed everyone with his impressive technique and fierce licks generating considerable heat, while mainstay pianist Damian Espinosa showed some tasty chops as well. Meanwhile, the rhythm section of Tyrone Blair and was as tight as Scotsman's purse and the entire band showed that the experience they are gaining playing together nightly is bearing fruit. Nor do they simply burn, but have the skills to play it with style as their lovely and heartfelt version of Tommy Turrentine's ballad "Bonnie" indicates. Overall, this band was solid and very musically entertaining, with a nice future ahead of them.

But the future is now, and Chris and his band are playing out several nights a week in the Chicago area. They are not to be missed if you are a fan of high energy saxophone quartet jazz. Please support our local artists like Chris Greene and his fine quartet, as well as clubs like Katerina's. Let's keep the music alive and help it grow.
| | |
| --- | --- |
| Chris Greene & Marc Piane | Marc Piane, Damian Espinosa & Chris Greene |
| | |
| --- | --- |
| Chris Greene | Damian Espinosa |
| | |
| --- | --- |
| Tyrone Blair | Chris Greene, Marc Piane & Damian Espinosa |
| | | |
| --- | --- | --- |
| Marc Piane | Chris Greene | Chris Greene & Marc Piane |
| | |
| --- | --- |
| Chris Greene | Damian Espinosa |
| | | |
| --- | --- | --- |
| Tyrone Blair & Marc Piane | Chris Greene & Marc Piane | Chris Greene Quartet |
| | |
| --- | --- |
| Damian Espinosa | Marc Piane & Chris Greene |
| | |
| --- | --- |
| Chris Greene | Chris Greene Quartet |
| | |
| --- | --- |
| Marc Piane, Damian Espinosa & Chris Greene | Chris Greene |
Check out other recent concerts reviews and photos

Contact Brad and JazzChicago.net at bwalseth60@aol.com