Story by Jean Timmons
Photos by James Walker, Jr. and Brad Walseth

The 30th Annual Chicago Jazz Festival will be long remembered. It was a Polka Dots and Moonbeams kind of affair. You were there. You know it happened. And you remember its sweetness. Yet it was unbelievable music even as it unfolded. Those who attended can claim they witnessed Giants walking the earth, for book ending the celebration were two jazz legends - Sonny Rollins and Ornette Coleman. Here are just a few highlights.

Pritzker, Thursday, 28 August 2008

Sonny Rollins is moving slower and with that hitch that can come when years wear down the knees. Yet, he is in great jazz form, improvising well and fast. Wearing shades. Offering that Sonny sound - masculine but lyrical and life affirming. He rocks a bit but that sound, and the way he challenges his musicians while beckoning them to join him, stirred the crowd as his generous spirit surrounded us all.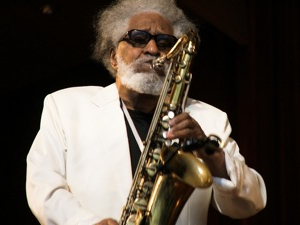 He didnít announce the first two selections [the first was "Sonny Please"] but the second was a typical Sonny ballad, which Rollins opened, followed by the bass player, Bob Cranshaw. When Rollins returned, it was with lyrics that Iíve heard so many times before, mainly from listening repeatedly to such recordings as "How Are Things in Glocca Morra." Within a solo, he played a snatch from "Diamonds Are a Girl's Best Friend" before losing himself in a flighty improvisation. He displayed impeccable phrasing at the onset. Throughout there was expert accompaniment from Clifton Anderson on trombone and Bobby Broom on guitar and contrasting percussive sounds with drums and bongos.
Around 1989Ė90, Rollins and his wife Lucille, who died in 2004, produced a joyful recording that they titled Falling in Love with Jazz. On it was the eponymous "Falling in Love with Love." Clifton Anderson and Bob Cranshaw were with him on that recording, too. Tonight he gave another rendition of "Falling in Love with Love," and the major similarity was the Sonny statement of the lyric. The difference was the wonderful, lengthy trombone solo by Anderson and the great bass guitar music from Cranshaw.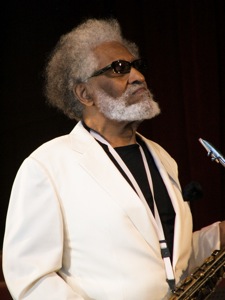 Anderson continued the excellent trombone playing on "In a Sentimental Mood," with such marvelous timing that one could not help but reflect on the old trombone players, like Vic Dickerson. Anderson surely put his stamp on the old Ellington composition, and it never sounded prettier, with each player contributing and ending with the signature cry of Rollins' tenor.
With "Global Warming," music with a salsa beat, the kind of thing one moves rhythmically with, Rollins plunged full steam ahead into his free jazz mode. Itís a composition that musicians seem to love playing more than the jazz aficionado loves listening. Still, Sonny commands attention, whatever, for he is a master.
He ended his performance with a blues that seemed familiar, but I canít quite pinpoint its history. In it, there was an allusion to an early Sonny blues, "Decision," and it was a crowd pleaser. People were hanging over the walls and walkway of Pritzker, straining to catch a glimpse of the musicians and to participate in the spirit of the moment. It was a beautiful set, Rollins was special, and the festival could not have had a more joyous beginning.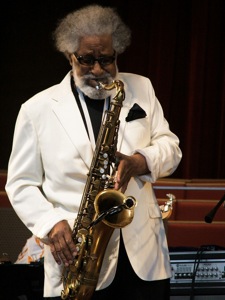 Petrillo, Friday, 29 August 2008
As usual, the festival spread out to the rest of Grant Park, from Jazz on Jackson and the Jazz & Heritage Stage to the Petrillo Music Shell. I caught up with the music in the evening at Petrillo. There, a tribute to the Association for the Advancement of Creative Musicians (AACM) was happening.
The AACM was founded in 1965, Muhal Richard Abrams, president. According to program notes, drummer Thurman Barker brought the group together for this performance. An aspect of these musicians (then and now) is proficiency on a number of instruments. On the bill were Roscoe Mitchell (soprano and alto), Barker (drums and vibes), Wadada Joe Smith (trumpet), Amina Claudine Myers (piano), and Michael Logan (bass). Their performance opened with Smith and Mitchell and strong support by the bassist. But it was a very percussive piece, leading organically to the second piece.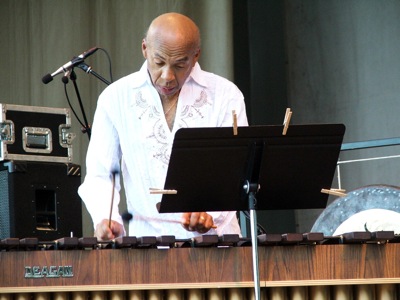 The second piece was launched with a long drum solo, which signaled the unusual quality of the group. This solo lasted five minutes or more. On it, drummer Barker, at times, was a throwback to the Gene Krupa-type drummer, very energetic. Mitchell's sax conveyed an open, hard sound; but not melodic like Sonny Rollins. Smith joined for a short time, and then Mitchell reestablished that same track, followed by the vibes and piano. After the drum solo, the sax dominated. Very ambitious, complex compositions, certainly in the vein of the old AACM.
Mitchell, without an announcement of the composition or much of a pause, proceeds to the next piece, which is more lyrical. After the musical introduction of the major instruments, the trumpet, who was given to these high-pitch, long-held, Roy Eldridge-type notes, held sway. In their music, one can easily discern favorite notes or vamps and postures. But this selection had a definite ending. At the conclusion, Barker provided some perspective on their program.
Speaker Barker recalled the input to the AACM of Cecil Taylor and Steve McColl, and then opened the next composition playing vibes but alternating on drums during the music. Continuing with the spotlight on their heritage, they dedicated their last piece to Malachi Favors, which Roscoe Mitchell launched with a solo on soprano sax. It was a brief solo, after which all the musicians dashed in and about with their licks. Yet it all came together. This group seemed a foreshadowing of the arrival of Ornette Coleman.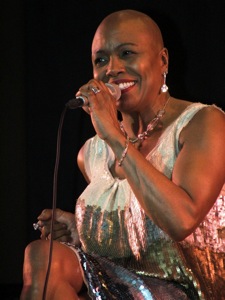 The fabulous Dee Dee Bridgewater followed the AACM tribute, and fabulous she was, in a program billed as a homage to the inimitable Betty Carter. Bridgewater was accompanied by Mulgrew Miller (piano), Ira Coleman (bass), and Winard Harper (drums).
Miller, Coleman, and Harper took the stage first and played "Sweet and Lovely," which was a fitting prelude to the arrival of diva Dee Dee Bridgewater. Her very physical appearance shocked the crowd for she sported hair cropped so short she appeared bald and wore a short shimmering silver and gold dress with high-heeled shoes to match. Borrowing from Etta James, Dee Dee proved to be "hell on heels." Enthusiastically she sang "What a Little Moonlight Can Do," including a scat to open with a nod to Carter. At one point, she posed for the audience, turning her back and shimmying. Pyrotechnicsville. The audience fell under her spell.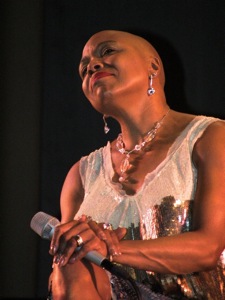 From that point through the performance, Bridgewater managed to add a distinguishing touch to each piece: on "No Greater Love," she demonstrated her trombone scat (the first singer that Iíve heard to perfect that sound). The drummer provided dynamic strokes to punctuate the performance and Bridgewater closed it with soft whisperings, so reminiscent of Carter. With "The Good Life (La Belle Vie)," she sang in French and then in English, including a sweet little scat interlude. Mulgrew's solo was particularly outstanding. (On stage, everything Dee Dee does is theatrical. For instance, she didnít take a drink of water, or whatever, during her performance as musicians do; but she mixed a little potion with some other potion and then took a delicate sip.) "Cherokee Warrior" was classic, early Betty Carter, with Mulgrew's agile piano work setting the pace. But she just lays out "Spring Can Really Hang You Up the Most." On the Carter signature composition, "Tight," Bridgewater provided the audience a little history, complete with a story about a dying Betty Carter giving an admonition against recording her material, and Bridgewater publicly damning Kurt Elling for doing just that. It took two attempts to launch the song, but it was just great with its plethora of double entendres.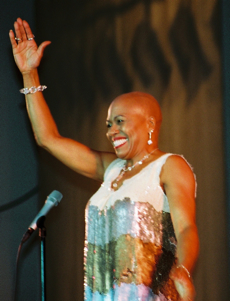 She concluded with a switch to Nina Simone's Four Women," a protest song. This was another showstopper, with Mulgrew's bluesy piano alternating between a moan and a shout when she named each woman. Performing this song, one recalls that Bridgewater has a lot of the actor in her character (re: John Sayles' Brother from Another Planet). As for the performance tonight, she started a bit late and ran a bit over, but I could have listened to her all night - she was really on.
Next up was Eddie Palmieri's Latin Jazz Band, with that protean sax player Brian Lynch. They rocked the full house from the first notes. People were heavy on the grounds and the seats were full. But, I was still a sentimental thing, throwing my heart away. So I had to leave after the first piece.
Saturday, Jazz on Jackson
When I arrived, having gotten over my Spring hangover, the Chicago Bass Masters, featuring Larry Gray, Harrison Bankhead, Robert Irving II, and others were wrapping what my jazz mates related to me was a terrific set. The John Wright Quartet took over, featuring Wright (piano) and William "Bugs" Cochran (drums).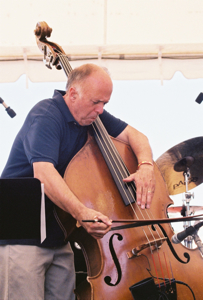 Wright, according to the program notes, works regularly at the Philander in Oak Park. His piano leans in a blues-soul jazz direction. His set included "One O'clock Jump" and an Eric Clapton blues, "Before You Accuse Me." To get out the box, he played "My One and Only Love," which seemed to come out of the Error Garner school of jazz piano. It was a pleasant, relaxing set.
Wright was followed by the Willie Pickens Trio, with Pickens (piano), Larry Gray (bass) Joel Spencer (drums) and special guest Brian Lynch (trumpet). Guitarist Kenny Burrell was scheduled to play with the trio but missed the gig due to a traveling problem. It was a special treat for me, because I caught up with bassist Gray and trumpeter Lynch. And it was well worth the delay.
This great set took off with the group sticking Coltrane's composition "Mr. P.C.," who is none other than the great bassist "Paul Chambers." On this improvisation, Pickens did a little McCoy Tyner, whose seeming influence reoccurred throughout the set. After such stimulating music, the rest of the set had a mark to reach. And for a while, it lived up to expectations.
The next composition happened to be one of my favorites, Randy Weston's "Hi-Fly," which always reminds me of Dexter Gordon, for Dexter truly owns it. Of course, this rendition was without sax but with good work from all, and the bassist made his acquaintance to all newcomers to his sound. Pickens punctuated the melody; the drummer reached a bit more on this one; and the trumpeter displayed his sterling qualities, a piercing yet graceful sound. When the bassist entered on the trumpet solos, he, too, sang gracefully, hitting each note so intricately that you wondered if he was going to make it.
The next two pieces, Cole Porter's "Night and Day" and Thelonious Monk's "I Mean You" were up to par with the rest of the music. Pickens with his McCoy licks, the virtuoso playing of both trumpet and bass, and the steadiness of the drummer held sway in both pieces but the Monk upped the ante. For the Monk, the bassist drew his bow for some really inspired playing. And Pickens showed himself to be an astute leader, encouraging his companions through gesture and playing.
For the finale, they played Mercer Ellington's "Things Ain't What They Used to Be," which, in the beginning, was a little awkward for the trumpet. The work is one of those old chestnuts that get the crowd a clappin'. When Pickens entered, he resorted to his bluesy licks, which was reasonable enough, and threw in a little reference to "See See Rider." The crowd just a chucklin'. When the trumpeter rejoined, he had relaxed a bit. Improvisation saved the day, with the bass contributing many little tricks, little touches.
A very likable set.
Petrillo, Sunday, 31 September.
The last day of the festival. It was apparent that people gathered for various reasons - cheap entertainment, the park on a lovely day, and strictly music. Many would leave and others would take their seats. But music lovers were there for the duration, and especially awaiting Ornette Coleman. Meanwhile, an interesting and challenging schedule was about to unfold.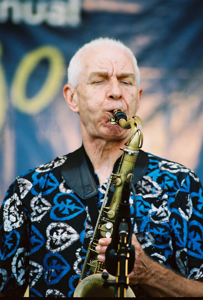 The evening began with music from the Ron Dewar Quintet with Dewar on saxophone, Will Garcia (alto), Don Heitler (piano), Jim Cox (bass), and Phil Gratteau (drums). The opening music was a Benny Golson composition, "Blues on My Mind," sweet and straight ahead. They followed Golson with Gershwin's "Who Cares . . . ," for which Garcia played light, airy flute, wonderfully complementing the deep tones of Dewarís sax. A nice way to begin a Sunday afternoon of jazz. At moments, the pianist transcended the steady rhythm, but smoothly.
When Dewar introduced their last selection, "Minority," he recalled that he performed at the first festival. Heís been around and is a very accomplished musician, in spite of his lack of recorded music. In the last piece, Garcia played like the feature player in the group that he was, showing off his musical sophistication. The pianist especially inspired Dewar with his Brubeckian licks. The Dewar group was quite a contrast to the next group of musicians on the program.
The Instant Composers Pool Orchestra (ICP) is a group from the Netherlands who espoused the European (naturally) approach to free jazz improvisation that takes it in the direction of total abstraction and irreverent theatrics. This is the kind of music that gives free jazz a bad name. Their opening was a scream of cacophonous music, played at breakneck speed. When they calmed down, people applauded - but not so much with pleasure as with relief. Misha Mengelberg coined the term "instant composition," but it seems more a rebuke of jazz. Still, after the daring opening, it settled into being the type of free jazz most jazz fans recognize. The other cofounder Han Bennink on drums was with the group.
The female violinist, Mary Oliver, was really far out. After her instant composition, out of nowhere the musicians played Dixieland jazz or old Louis Armstrong hot five stuff. Later, drummer Bennink jumped up from the drum set, hit the cymbals on his way to the edge of the stage, where he resumed drumming on the floor. They are far, far out. Much fun to watch.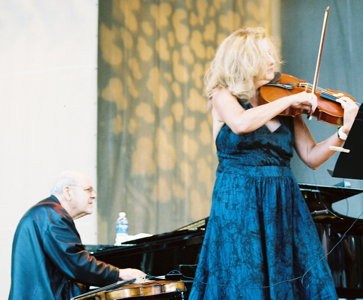 The ICP were followed by the group 8 Bold Souls, led by reedist Edward Wilkerson, who is also this year's artist-in-residence, accompanied by musicians on saxophone, trumpet, trombone, tuba, cello, bass, and drums. The group was formed twenty-three years ago and was much influenced by the AACM.
Each band members wore a hat, except for Wilkerson, but none matched. The hats gave off a sense of individuality to the group but they play together well, a sort of jazz funk. When the tuba made a notable appearance, as in the tuba solos, he injected a Lester Bowie quality. But, it must be difficult to make a tuba sing. With all that brass, the band was characterized by a brassy timbre.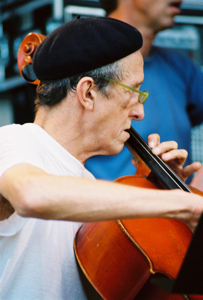 Yet they definitely were not one dimensional. "Switched at Birth" was a very inventive piece, featuring an accomplished cello solo and clarinet playing that tempered the brassiness. Wilkerson introduced "Autumn of the Patriarch" (also the title of a Gabriel Garcia Marquez novel) with a breathy sax, included a tuba break, and maintained an autumnal mood for the piece. The somber and majestic strains of "Desafinado" were quite effecting. The various tempos at its close were at once driving, surprising, and innovating. In that section the trumpet and bass were very energetic. Dee Alexander joined the Souls for a couple pieces. In a Sarah Vaughn mood, Alexander did a vocalese and a Wilkerson composition, "What the Heck." This music was loud and rather raucous. They rounded out their program with a Bossa nova titled "Brown Town," which was a free jazz composition that provided quite a suitable introduction to the headliner, Ornette Coleman.
Ornette Coleman, recent Pulitzer Prize winner, came to the festival with his son Denardo on drums; Tony Falanga on acoustic bass; and Al McDowell on electric bass guitar. Coleman himself would play alto sax, violin, and trumpet. Coleman, as most know, is credited with major innovations in a type of jazz that was labeled "free jazz." Free jazz refers to improvisation that is not based on a predetermined harmonic structure or structural length. It may have a regular time with recurring rhythmic patterns. Coleman's music is harmonically abstract but, unlike the ICP, contains the feeling of the blues and regular time; and it swings. Ever seeking new ways of musical expression, the night's performance was rather classical in feeling and structure.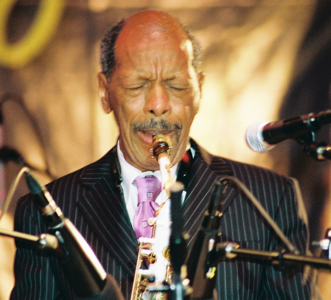 The music was of one piece, seemingly, but composed of numerous movements. So I'll refer to what I heard as movements, and on the first, Ornette introduced the alto and played it briefly, then briefly played the trumpet, and back again. This routine was repeated. With the second movement, the drummer grew inventive in his beat and improvisation and Ornette's alto sax sound was striking in that it seemed distilled of excess ornamentation. After a brief pause but no announcement of a different piece, the musicians continued.
In the fourth movement, the guitarist provided nice lines with a Middle Eastern drone to open the section. Then Ornette introduced his violin, playing for a short passage and then moving on to alto or trumpet; usually the series was violin, trumpet, and alto. As the music progress the bass grew stronger and stronger and, at one point, used the bow to produce hard but melodic music. Suddenly I recalled Ornette's "Lonely Woman" composition. But the allusions, were there many, were well incorporated, woven tightly into the mesh of improvisation.
The fifth movement initiated the bass and alto duet. Bass player was off bow and very active. The drummer worked hard with that Elvin Jones brand of energy, which prompted some hard blowing from Ornette but with joy; the tone was up. This movement ended on the familiar strains of the blues.
By this time, it was easy to detect a pattern with each instrument. The bass player went to his bow often, just as Ornette alternated with his violin, trumpet, and alto. Yet, like Elvin with Coltrane, Denardo was constant in his intensity. What's happening here? The movements could be lyrical or pensive, the notes staccato or long, the music free or straight ahead. But the music never was short on inventiveness. On the final movement, Ornette settles on his alto and produced music that was simply beautiful and haunting.
Ornette Coleman is certainly the model jazz musician in his quest to find new ways to find himself in his music. For me, his tone is not as distinctive as a Sonny Rollins or a John Coltrane. But listening to him tonight, I attributed that lack to myself in not listening more to him. Ornette went away from the music scene more than other musicians, including Trane and Sonny, to study and to compose. His recorded music is not as full as other great jazz innovators, but less is more with his kind of musician. And I thank the Jazz Institute for bringing him to Chicago to reacquaint jazz fans with his music.
| | | | |
| --- | --- | --- | --- |
| Ornette Coleman | Ron Dewar | Dee Dee Bridgewater | Sonny Rollins |
Check out other recent concerts reviews and photos