New Orleans Jazz Orchestra


Chicago Symphony Center, Chicago,IL
April 11, 2008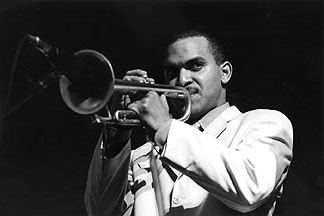 Irvin Mayfield
Story by James Walker
file photos of Maurice Brown & Derek Douget by Brad Walseth

Before a sell out crowd at Symphony Center, Irvin Mayfield and his array of exceptional bandmates took the Chicago crowd on a spectacular 2 hour journey.Irving, the 30 year old masterful composer, conductor and musician is to be commended for his endeavor to bring New Orleans's music and culture back to the prominence that it experienced prior to the devastation that Hurricane Katrina left it in 2004.Even after suffering the personal tragedy of losing his father during the flooding, Mayfield could have easily retreated and abandoned his native "Crescent City", but instead regrouped and continued his work with the New Orleans Jazz Orchestra that he initiated in 2002.

Beauty is in the eye of the beholder, and from the perspective of this writer, the NOJO in it's totality was perhaps one of the most spectacular jazz performances at this historic hall in the past several years. The program began with a pictorial overview of jazz in New Orleans with the likes of Louie Armstrong and others as an entree into the music.The band "chanted" following Mayfield's lead with his golden horn during a "call and response" segment.

During the orchestra's playing of "Higher Ground", the full band sound was complemented by a nice solo from Chicago native trumpeter Maurice Brown. "Reese,"hitting runs and short snippets delighted the hometown crowd.This was an early crowd pleaser.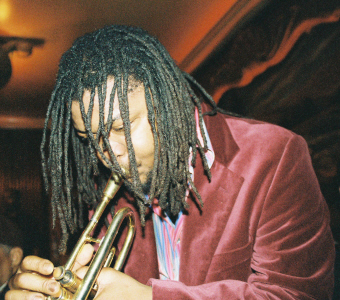 Perhaps the absolute star of this star studded band was clarinetist Evan Christopher. He was featured throughout the evening on both alto and clarinet and left this audience in awe after several clarinet solos.The first was on "The Element," a song with an appropriate "ragtime" twinge. Evan received a rousing ovation at its conclusion and the audience would be treated with similiar explosive solos from this young man during the entire program.

Another such occasion occurred on "Somebody Forgot to Turn the Faucet Off." This number was full of spectacular solos, including alternating sax solos between tenor saxman Derek Douget and alto Aaron Fletcher. Brilliant trombonist Ron Westray distinguished himself on this song with a rapid fire improvisational extended solo.Not to be outdone, another Chicago native, Ed Peterson, got a piece of the action. Big Ed was scintillating on the number. Also, the trumpet section, (with Mayfield joining in) alternated solos and played a segment in unison to complete this song. It was one of the highlights of the night.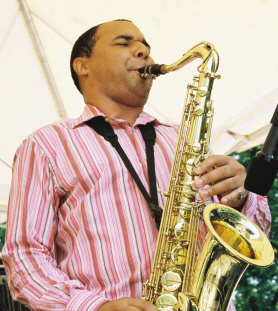 The final piece of the evening, "May your Soul Rest in Peace," was a tribute to Mayfield's father and others who perished during Katrina. Before playing this number, Mayfield discussed the building of his trumpet that took 15 months to complete by a team of 20 workers. He calls it the "Elysean Trumpet as it was on Elysean Fields Blvd. where his father drowned. Mayfield had it on display after the concert and it's always guarded by a New Orleans police officer who travels with him.

This song was accompanied by a piece of video that depicted the devastation from the flooding and the agony that residents endured as many were left stranded for days. This is a reminder that America must never forget this tragic event and hopefully never allow a re -occurence. The song was rooted in a spiritual/gospel mode and was beautifully done. Again, clarinetist Christopher, and Mayfield excelled as one could feel the pain emitted from this song as many assembled could be seen wiping tears from their eyes. This writer was also touched by the vivid reminder.

Kudos to Irvin Mayfield for his continued effort to right the wrong that New Orleans has endured as a result of one of the worst tragedies in the history of this country. Let's hope that his efforts will spur on others to take similar actions to restore this once great city to the prominence that it once experienced.

Don't miss Symphony Centers next installment of this year's exceptional Jazz series with the May 16th double bill of Panamanian pianist Danilo Perez and Tenor Saxophonist David Sanchez. This promises to be a sizzling night of Latin and Afro-Cuban influenced jazz.
Check out other recent concerts reviews and photos

Contact James Walker, Jr. and JazzChicago.net