Story and Photos by Brad Walseth

The crowd at Chicago's storied Green Mill Lounge received a rare and thrilling treat Saturday night as stellar NYC tenor saxophonist Donny McCaslin brought his exceptional talent and high-octane backing band to the city for a one-night engagement (the group played a one-hour set earlier in the day at the Cultural Center).

McCaslin is one of the young guard in NYC that is making considerable waves in the jazz world with his combination of skill and songwriting. Along with other NYC-based artists like Maria Schneider (with whom McCaslin appears), alto saxophonist David Binney (who also produces McCaslin), bassist Scott Colley, keyboardist Craig Taborn, vocalist Luciana Souza and saxophonists Miguel Zenon, Wayne Escoffrey, Bob Reynolds and of course, Chris Potter, McCaslin appears at the vanguard of a burgeoning jazz scene.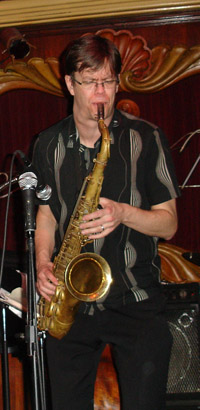 Backing McCaslin on this evening was a virtual who's who of young jazz talent. Bassist Hans Glawischnig is an up an coming talent who has anchored releases by James Moody, Wayne Escoffery, Miguel Zenon and more, and who recently released a fine album of his own ("Panorama" - soon to be reviewed here). Drummer Antonio Sanchez is a powerhouse, who has recorded with Michael Brecker, Chick Corea, Pat Metheny, Avishai Cohen and others, and also has a new release - "Migration." He was joined in the explosive rhythm section by percussionist Pernell Saturnino who has augmented many releases.

The intensely introspective Ben Monder handled guitar duties, while on the front line, McCaslin was joined by well-regarded veteran reedman Steve Wilson and vocalist, Kate McGarry. This line up was perfect to present McCaslin's brilliant compositions which combine modern directions with South American rhythms.

Playing a number of compositions from McCaslin's last two exemplary albums,"Soar" and 2007's "In Pursuit" (JazzChicago's #1 album of the year). McCaslin and the group kept the Green Mill crowd enthralled with their energetic presentation of the saxophonist's original tunes.

McCaslin opened things up and left no doubt that he would be bringing everything to the table, and he did not disappoint. McCaslin rides the edge on his solos, never playing it safe. He is fearless and wiling to jump into Coltrane-ish quartal harmony at any moment. Sometimes his lines cross the lines, but they never fail to amaze and astonish at his audacious creativity. McCaslin's brave ferocity and surprising melodic flights centered the evening, while meanwhile Sanchez proved that he would be a hurricane force all night with his explosive drumming.

Kate McGarry added breathy wordless vocals to the mix. I'm not always a fan of this element, but McGarry completely won me over with her ability to sensitively merge her vocals into the mix, adding another instrument to the overall sound. Wilson's interplay with McCaslin was delicious to behold. The beautiful "Madonna" highlighted their work together and was a first set highlight. Glawischnig supported everyone nicely with his solid work on the bass, while Ben Monder's blazing licks and luscious tones left the crowd gasping. Like a quiet assassin lurking in the shadoes, Monder offers impassive facial features and little body movement, even while he was shredding with abandon. One of my favorite young guitarists, his sound and mastery of his axe was impressive. And how unique to see Monder and percussionist Saturnino playing chess in the shadows between sets.

The second set featured more from "In Pursuit," including the title track, "Descarga" and "Sea of Expectancy," while the 3rd set ended with the epic "Festival in Three Parts" that had the Green Mill audience (including Chevere's Eric Hochberg and Aledo Poveda) cheering the visitors on. What's really amazing is how young and talented McCaslin is and how much even stronger this young artist should continue to get. It is truly a scary thought! Here's hoping Dave Jemilo can bring this excellent group of musicians back to the Green Mill for an entire weekend and let all of Chicago get the opportunity to catch these exceptional players in action.