Matt Ulery's Loom
Music Box Ballerina
CD Release


Andy's, Chicago,IL
August 30, 2008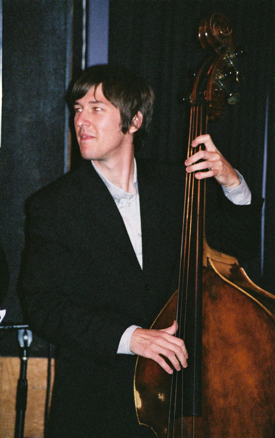 Matt Ulery
Story and Photos by Brad Walseth



Having been quite impressed with their new release, "Music Box Ballerina," (see our CD review here) I made sure to come by and catch Matt Ulery's "Loom" on Saturday night of the Jazz Fest. And I was not disappointed, as the band played selections from the release like "Kentucky Animal Orchestra" with energy and skill and had the crowd entranced with their original sound.

Ulery centers the band with his bass, while drummer Jon Deitemyer plays with power and precision. The stellar front line of saxophonist Tim Haldeman and trumpeter Thad Franklin are assured and truly a pleasure to listen to. And talented pianist, Rob Clearfield also doubles on accordion, giving this ensemble a quite unique sound.

Loom will be appearing at Pops For Champagne on Wednesdays in September, and I strongly suggest you take the opportunity to hear this excellent group of young, up-and-coming Chicago jazz stars play Ulery's intriguing compositions.
Check out Matt and Loom online

Check out other recent concerts reviews and photos

Contact Brad Walseth and JazzChicago.net