Story by Mary Lou Wade
Photos from internet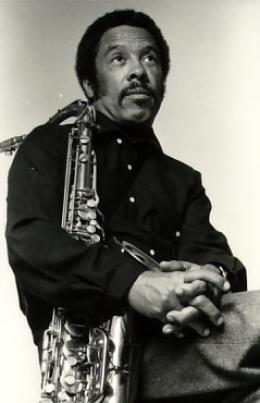 The Jazz Showcase on Wednesday, September 3rd was a continuation of the Jazz Fest for many Chicago fans and it was a jumping, swinging place starting at 8 PM. Benny Golson, noted saxophone player, appeared a day early for his Showcase gig to join Ira Sullivan, who had been running the After Fest Jam Sessions to pay homage to Johnny Griffin, the "Little Giant" who passed away on July 24, 2008.

Both experienced musicians had stories to tell about Griffin and began the first set with Stu Katz on piano, Kobie Watkins on drums and Jamie Aisley, a great young bass player who Ira brought to Chicago from Florida. Since his instrument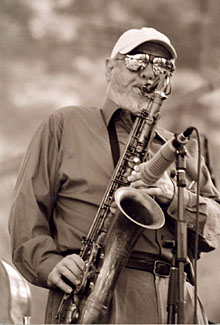 was small Benny referred it to "A bass on a diet." They played "All The Things You Are" and "These Foolish Things." Benny told the story of how Billy Strayhorn composed "Take the A Train" on his subway ride to meet Duke Ellington, who then used the song as his theme. He also suggested that Ira Sullivan change his name to Don Perignon, because he gets better with age and invited him to New York where he could teach upcoming musicians. The group concluded with "Now's the Time" which contains the strains of "Do The Hucklebuck."
George Freeman, guitar, Mark Colby, sax, Robert Shy, drums, and Willy Pickens replaced the first group and, again, stories about Griffin were shared. They rocked the club with songs "Alone Together," "Someone In Love" and a Freeman composition "Grooving" where solos of Pickens' wild command of the keyboard and Shy's exciting drumming drew wild applause.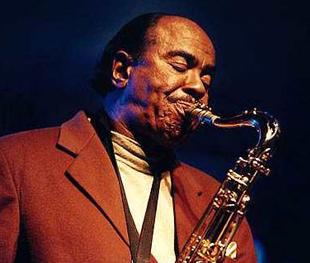 Unfortunately there were some gabby gals in the front row who spritzed perfume on one another, chatted unceasingly, and gave a bad reputation to women jazz fans. The rest of the full house audience gave rapt attention to the great gathering of musicians in their tribute.
Sullivan joined the group and promised a second set, but Joe Segal nixed the idea and Sullivan concluded about 10:30 PM. He quoted from Proverbs about men in their seventies and said; "It takes a long time to learn jazz." He ended with his usual conclusion of "Amazing Grace."
Thanks to the Showcase for an uplifting evening and for continuing a Jam Session three days after the Jazz Fest ended.
Photos top to bottom - Johnny Griffin, Ira Sullivan, Benny Golson