Larry Coryell


Andy's Jazz Club, Chicago,IL
May 22, 2008
| | |
| --- | --- |
| Larry Coryell | Larry Coryell |
Story and Photos by James Walker

Recently, this writer visited Andy's Jazz Club to catch the third in a series of Monthly National Acts with the presence of guitarist Larry Coryell. Larry, no stranger to Chicago was joined by longtime band mate , Chicago drummer Paul Wertico and bassist extraordinaire Larry Gray. Both Paul and Larry are two of Chicago's most respected musicans and are often kept busy when national artists are in town for a gig. Larry is a member of Ramsey Lewis's trio and Paul, when not fronting his own band, often travels with Coryell.

Having missed the first set, this writer arrived as the packed first set audience was leaving.The second set was played before a small but very apperciative audience which included Gray's fellow Ramsey Lewis Trio colleague, drummer Leon Joyce, Jr.

The set started with a mellow selection with Wertico adeptly using the brushes. All band mates took turns soloing on the first number.This was followed by a medley of tunes, "In Your Own Sweet Way" , and Ahmad Jamal's fabled "Poinciana." It was during this segment that Coryell talked about a visit he had with Jamal out East . He then shared another story of seeing Leon Joyce ,Jr. performing in Spain with Ramsey. Larry was full of stories and unfortunately, at times, the chatter overeshaldowed the music.

Larry Gray was featured on a Miles Davis tune, "Some Day My Prince Will Come." This Gray arranged song was beautifully done while Coryell , playing in a very relaxed manner reached high points as Gray smoothly stroked his upright with his bow as only Gray can. He seems to be a master at using this forgotten piece of the upright bass.

What's a guitar led set without paying homage to the pioneer of smooth stroking guitar, the late Wes Montgomery.The group played Wes's most covered tune, "Bumpin on Sunset.". Coryell seemed to gain energy as he unleashed his staggering 6-string instrument with reckless abandon. Coryell even stood up for one of the few times during the evening, to the rousing approval of the crowd. Larry was at his absolute best as they hit their peak in a compelling manner with Coryell going into overdrive with some rock like improvising.

Another highlight of the evening was his work of art on "Bolero." He patiently stroked the guitar with both hands on this spanish tinged tune at a rapid pace.

This low key set was brought to an end with the group paying tribute to Thelonious Monk with their version of his "Well You Needn't." Each member performed nice solos with Wertico demonstrating power percision drumming that he's noted for.

It's this writer's understanding that the first set was highly energetic compared to the second. Nevertheless, those remaining at the end appeared to be completely satisfied. Let's hope that Andy's will continue this monthly series of National acts as it's apparent that there's a market for such entertainment here in Chicago.
| | |
| --- | --- |
| Larry Coryell | Paul Wertico |
| | |
| --- | --- |
| Larry Gray | Paul Wertico |
| | |
| --- | --- |
| Larry Coryell | Larry Coryell |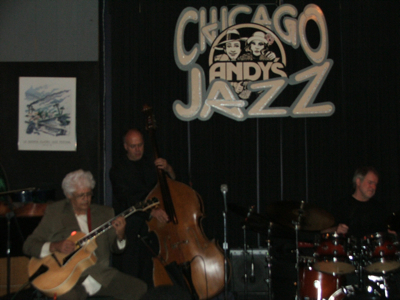 Larry Coryell, Larry Gray, Paul Wertico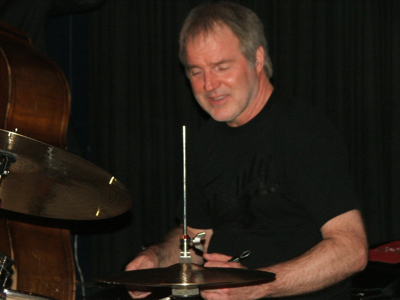 Paul Wertico

| | |
| --- | --- |
| Larry Gray | Larry Coryell, Larry Gray, Paul Wertico |
| | |
| --- | --- |
| Larry Coryell | Larry Coryell |
Check out Andy's Jazz Club

Check out other recent concerts reviews and photos

Contact James Walker, Jr. and JazzChicago.net