Story and Photos by Brad Walseth

The James Davis Quintet made a compelling case for inclusion in the top ranks of up-and-coming young Chicago jazz groups when they played Andy's this last weekend, celebrating a CD release party. Mixing originals culled from their fine debut release "Angles of Reflection" with standards and some enjoyable new songs, Davis and his band mates entertained the crowd with their spirited playing and interesting compositions.

Led by trumpeter/flugelhorn player Davis, the ensemble was tight yet fluid. Bassist Jeff Greene showed his chops with exceptional support as well as playing several tasty solos, while drummer Jon Deitmyer was solid and creative on the drum kit. Keyboardist Sean McCluskey bravely did battle with a stuck key and came out on top with some sparkling work on his extended solo forays.

Front line husband and wife team James and Caroline Davis traded solos, with rewarding results. Caroline is making quite the reputation among young players in the city with her light and limber lines on the alto sax. Never satisfied to merely skim the surface, she takes chances that more in-the-pocket players might not, and this is a welcome aspect to her playing. Meanwhile, James' horn playing is full, confident yet subtle; his work as a player matching his strong abilities as a composer.

Davis, whose other group is the more experimental "zing," merges pop and other varied musical elements into a jazz context with often surprising results. For example, the hypnotic "Cotton" sounds almost hymn-like, while "Plastic Piano" bubbles along with intricate interplay and rewarding subtleties. The sultry "None of the Above" revels in its assured pacing. Meanwhile, the rousing "In Between" is sure to get the heart racing.

Davis and his group did a fine job on their cover songs, including Miles Davis' "Solar," but I was most taken by some new originals being presented, which show more of Davis' impressive sense of melody and harmony. I believe we will hear more from this fine group in the future, but for now, please do yourself a favor and pick up one of the best local releases of 2007 — "Angles of Refraction" and be sure to catch this excellent group live when you can.
Listen to the James Davis Quintet
"Plastic Piano" (excerpt)
| | |
| --- | --- |
| James Davis | Sean McCluskey & Jeff Greene |
| | |
| --- | --- |
| Sean McCluskey | James Davis Quintet |
| | | |
| --- | --- | --- |
| | "Caroline Davis & James Davis" | Caroline Davis |
| | |
| --- | --- |
| Jon Deitemyer, Caroline Davis, James Davis | Sean McCluskey, Caroline Davis |
| | | |
| --- | --- | --- |
| Jeff Greene | Jeff Greene & Sean McCluskey | Caroline Davis |
| | |
| --- | --- |
| Caroline & James Davis | James Davis Quintet |
| | |
| --- | --- |
| Sean McCluskey, Jeff Greene & Caroline Davis | Jon Deitemyer, Caroline & James Davis |
| | |
| --- | --- |
| Caroline Davis | James Davis |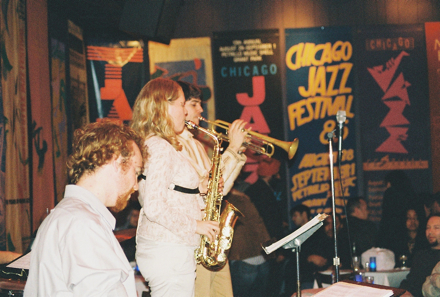 James Davis Quintet
Check out James and Caroline's Web site

Contact Brad Walseth and JazzChicago.net at bwalseth60@aol.com