Story and Photos by James Walker

After enduring a very long and harsh winter, followed by an unpredictable "spring", Jazz lovers welcomed with open arms the beginning of the outdoor summer music series with Musuem of Contemporary Art's(MCA) "Tuesdays on the Terrace" Jazz, WNUA'S "Jazzin' in the Park's" monthy Wednesday sets at the Plaza at the Park Grill and Musicians' Network Mecca's(MNM) weekly Monday gigs at the Inner Harbor at 59th. Street and Science Drive on the South Side. What a relief to have so many options for a relaxing evening of free or inexpensive jazz in a very informal atmosphere.

This writer makes it a point to check out as many or these events as possible, and under this review, we will provide a summary of events at the above mentioned venues with an gallery of wonderful photos highlighting the performances of some of Chicago's finest musicians.

MCA. Multi-reedist Ari Brown and his ace bandmates graced the patio at MCA on the beautiful evening of June 10, 2008. Ari was joined by his "usual suspects" of bassist Yosef Ben Isreal, drummer Avreeayl Ra, and his brother Kirk Brown on the keyboard. This is a close knit unit that often perform and record together and on this gorgeous evening, playing many selections from Ari's recent CD, "Live at the Green Mill," did not disappoint the attentive discerning jazz fan. Ari is one of Chicago's finest musicians and left the crowd breathless.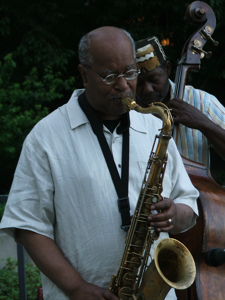 Beautiful songstress Julia Huff took her turn at the MCA mic on June 24, 2008. Although many in attendance had not previously experienced a Julia Huff engagement, most left this set as a new fan. Julia simply was spectacular as usual. She was accompanied by "Jammin'" Ben Johnson on drums, bassist extraordinaire Marlene Rosenberg, and her long time band leader Joel Burk tickling the 88s with his usual perfection. Julia displayed her versatility on this evening with a array of songs including jazz standards, blues and R&B tunes. She knows how to "work" an audience and can serenade a "brother" with the best.

This South Side "bronze beauty" performs every 1st and 3rd Tuesday at the M Lounge on Wabash in the South Loop and is quite worthy of checking out at this intimate and cozy venue. You won't regret it!!!!!!!!!!!!!

Jazzin' in the Park. After an absence of a few years from this beautiful downtown outdoor grill, WNUA returned to this popular venue for a monthly smooth jazz series. Opening before a overflow crowd June 18, 2008 was none other than Chicago's premier jazz vocalist, Dee Alexander. What a way to begin the summer series with Dee and her men of distinction, Junius Paul on bass, Leon Joyce, Jr. on drums, and her longtime band director, Miguel De la Cerna on keys. They don't get much better than that aggregate. Although it was a little breezy on this evening, Dee performed at the usual optimum level that one is accustom to seeing from Ms. Alexander. She is one of the jazz world's best vocalist and can hold her own with anyone, anywhere!!!!. Chicago is very fortunate to have such a treasure in it's presence.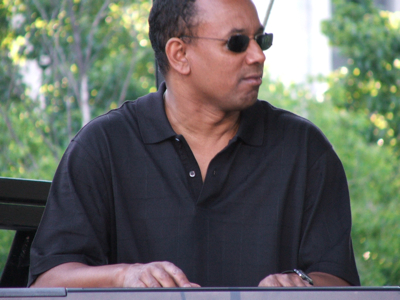 Dee has a very busy summer schedule and can be seen throughout the Chicago area with an array of different groups. Dee performs with big bands, small ensembles, trios, etc. Whatever the group may be, you can always count on an excellent performance from Chicago's first lady of jazz.

The smooth jazz group "Lake Effect" entertained another overflow crowd at WNUA's July 18, 2008 set at "Jazzin' in the Park." This group is led by guitarist Bob Davis and keyboardist Neil Artwick. These two have been collaborating for years, and recently released a fine CD entitled "Brighter Moments." They were joined on this set by drummer Chris Miskel, bassist Lamar Jones and percussionist Reuben Alverez. It was another wonderful summer afternoon and these "cats" had the Park Grill crowd snapping their fingers and clapping their hands throughout this 75 minute set.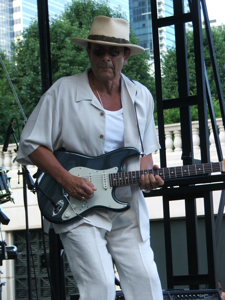 Their CD also features Chicagoan guitarist Nick Colionne on "Green Dog Marco," a selection they played at this gig and saxophonist Warren Hill also guests on "In the Universe."

MNM. This unique organization of Chicago musicians meets every Monday at the Inner Harbor at 59th Street. Musicians throughout Chicago come together to "Jam," in addition to young "novice" musicians performing a number or two under the tutelage of this fine group of mentors. Also each week, an experienced musician is highlighted. The featured artist on June 30, 2008 was blues guitarist and vocalist Vince Agwada. He was joined by Brian Jones on drums, Russ Green on harmonica in addition to house musicians Larry Hanks on keyboard and Mike Sterling on bass.

Not only has this set become an opportunity for musicans to have a good time on this traditional "dark" performing night for artists, it's also an excellent time for young aspiring musicians to try out their craft with assistance and feedback from their more experienced mentors. On this evening, vocalist Samage Aiken kept the proceedings moving as the MC. This set usually begins around 7:30pm and concludes around 11pm.

As one can readily see, there's a plethora of opportunities for Chicago jazz fans to enjoy an evening of fine music under the stars in a pleasant and informal atmosphere. Don't miss out on this fine music this summer because before you know it, we'll be complaining of the cold long winter that's surely waiting for us later on in the year. But for now, be sure to check out all of this "Hot Fun In The Summertime" throughout the Chicagoland.