Gilberto Gil


Ravinia, Highland Park,IL
June 19, 2008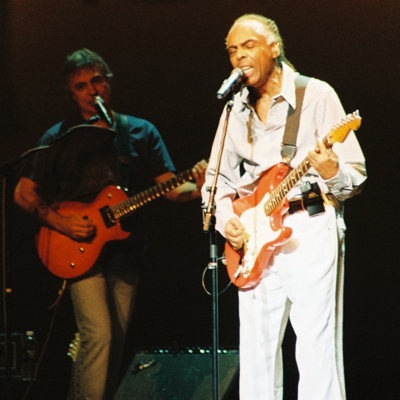 Gilberto Gil
Story and Photos by Brad Walseth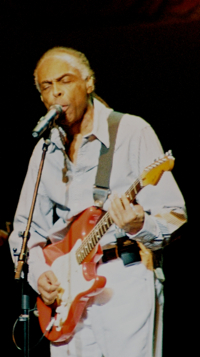 "Let the people dance, please." In a quiet and world weary voice, Brazilian Tropicalia superstar Gilberto spoke to the security guards at Ravinia who sought to force the jubilant offender to return to his seat. Now aged 65, but exuding energy that seemed to make him half his age, the pioneering musician and Brazilian Minister of Culture stood up to oppression again and with the same result he achieved in his struggles with his country's right wing military juntas. The staff relented and within minutes of his calming plea, the entire front half of the pavilion was filled with people dancing wildly to Gil's samba-styled rock sounds.

Like his fellow artist, Caetano Veloso, Gil has taken the sounds of Brazil, the samba and bossa, and combined them with modern electronic instruments and various other musical styles. With three guitars and a synthesizer player in the band (augmented by bass, drums and percussion), it was clear this is not your father's bossa. With effects on the electric guitars, heavy synthesized beats and theatrical gestures, Gil was adventurous and even took the music into a dark area that called to mind art rocker Peter Gabriel. But mostly, the iconic artist was upbeat and positive, exhorting the disappointingly small but vocal crowd to love and enjoy life.

While presenting a series of songs that highlighted different Brazilian musical styles (baiao, xote) and composers/perfromers (Baden-Powell, Jackson do Pandeiro), reggae suddenly slipped in with a glorious cover of Bob Marley's "Three Little Birds," and highly satisfying reggae versions of "The Girl From Ipanema" and the Beatles' "Something" that seemed to clearly frame Gil's belief in music as a universal force for the good. The effevescent "Kaya N'Gan Daya" and "Palco" ended the evening successfully with dancers whirling and shaking in an explosion of good will and positive energy. One would hope that in the future Chicago will recognize Gilberto Gil and show up in force, ready to party should he ever decide to make a return trip to the city.
| | |
| --- | --- |
| Gilberto Gil's Banda Larga | Banda Larga |
| | |
| --- | --- |
| Brazilian star Gilberto Gil comes to Chicago | The Pin Stripe Brass Band Returns to Ravinia |
Check out other recent concerts reviews and photos