Story and Photos by James Walker

The Jazz Institute's Guitar Summit (in collaboration with the Chicago Park District) at Austin Town Hall on February 8 , 2008 was a rousing success. What a sight seeing four of Chicago's premier jazz guitarist performing on the same stage simultaneously. Jeff Parker, Buddy Fambro, John Moulder, and Curtis Robinson opened up the Institute's 2008 Jazzcity season in grand style.

Although the four are based in Chicago, each has performed on the National stage with the likes of Ramsey Lewis, Freddy Cole, Kurt Elling, Eddie Harris, Paul Wertico, Fred Anderson, Gladys Knight and the Staple Singers to just name a few. As one can see, their resumes are deep and varied. And if that wasn't enough, the rhythm section, consisiting of bassist Josh Abrams and veteran drummer Robert Shy, can hold their own with the best.

Dispite the fact that Chicago was coming off another winter storm, true jazz fans braved the elements and nearly packed the spacious West Side field house to witness this historic event.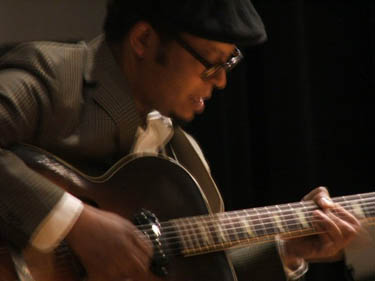 Initially, the four guitarist kicked off the set together before inviting Shy and Abrams to the stage. The first number was a tribute to guitarist Grant Green. It became obvious as the evening proceeded, that each guitarist had patterened his style after one of the pioneer jazz guitarist. On this number, the guitarists played in unision with each taking turns soloing.

The format for most of the remaining evening was for each to perform individually with the rhythm section. Jeff Parker got things started with his rendition of Kenny Burrell's "I'm a Fool to Want You." This was a beautiful ballad but unfortunately, Jeff had a little difficulty coordinating its conclusion with the rhythm section.

Buddy Fambro followed Jeff with Wes Montgomery's "Up and At It." What's a guitar summit without some Wes? Actually for the remainder of the evening, there would be quite a bit of arguably the greatest jazz guitarist of all time. Buddy "nailed" that familiar stroking that produced that distinct Montgomery sound.

Another Montgomery tune that was originally written and recorded by Dave Bruebeck, "In Your Own Sweet Way," was masterfully done by John Moulder. Moulder, also an accomplished composer, played this song with confidence and ease.

Finally, before concluding the first set, Curtis Robinson, accompanied by Fambro, Shy and Abrams, chose for his selection "Seven Comes Eleven" a number done by perhaps the first jazz guitarist, the legendary Charlie Christian. Fambro indicated that Christian was a sax player but had to switch the the guitar after developing TB.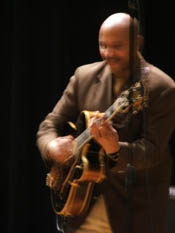 Curtis, with his magnanimous personality, ably served as the "leader" for the evening. Although there was no single "star" for tonight's performance, this writer believes that Robinson truly distinguished himself amongst these superb "pickers."

They began the second set together playing Kenny Burrell's "All Night Long." This piece was expertly done by all together with each taking turns exchanging notes. Not an easy task, yet they pulled this off without missing a beat. This writer has seen this done between two performers, but it's not as simple with four instrumentalists. This was followed by another Wes tune "SOS." The "cool and collected" Robert Shy was featured on this number. It's such a pleasure seeing veteran Shy holding down the beat with the greatest of ease. He never overplays and seems to never even break a sweat, yet he always keeps perfect time whenever he performs.

Fambro did another Montgomery tune,"Road Song." He began this song with a few bars of "Bumpin' On Sunset." As previously mentioned, Wes's huge shadow hovered over the stage all night long.

Perhaps the highlight of the evening was Robinson's medley of a couple of Wes's tunes,"Four on Six," and the ever popular "Bumpin' On Sunset." Robinson let it "all hang out" on this number and received a rousing ovation from the crowd.

Jeff Parker's version of George Gershwin's "It Ain't Necessarily So" was his finest effort of the evening. This sweet ballad was very well done by Jeff. John Moulder concluded the evening with another Montgomery selection, "Unit Seven." This writer would be remiss without recognizing the "hardest" worker of the evening, bassist Josh Abrams. Josh, unlike the other musicians, was on stage for almost the entire night. This young man continues to develop his craft.

It's amazing how much influence Wes Montgomery had on the Jazz scene in general and Jazz guitar in particular.This was quite evident tonight at the Guitar Summit as guitarist after guitarist paid homage to this great musician. If Webster were to define "Jazz Guitar," Wes' picture would certainly be under the caption.

Although this was unlike the typical jazz set, it was quite entertaining and very enlightening. Based of the response from the supportive crowd , all in attendance went home very satisfied.

For future JazzCity and other Jazz Institute's events for the remainder of the year, please refer to their website at www.JazzInChicago.org.

photos from top to bottom: Jeff Parker, Curtis Robinson