Story and Photos by Brad Walseth

Fareed Haque is one of those guitarists who play more notes in one evening than most guitarists play in a lifetime, and it is one of the highest of achievements that every single one matters. Thursday night at the wonderful Skokie Theatre, Haque and his Flat Earth Ensemble astounded the crowd with an engaging blend of jazz, Hindu/Pakistani, world, funk, classical and even rock sounds rolled into a delicious concoction. Not that this should be any surprise: Haque has toured the world in various configurations, including as leader of Garaj Mahal and the Fareed Haque Group, both of which showcase his impressive technical virtuosity and wide palette of musical tastes.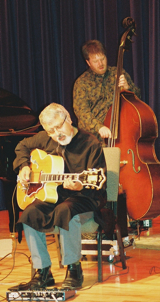 The Thursday gig took place in the gem that is the Skokie Theatre. I must applaud the sound, lighting, comfortable seating, unimpeded sight lines and convenient parking at this comfortable little venue and would suggest more people take advantage of seeing world-class musicians perform in such an appropriate and intimate setting. The listeners who attended on Thursday night were treated to the equivalent of a house concert with Haque and his stellar bandmates.

Subrata Bhattacharya on tabla, Alex Austin on bass and drummer Ernie Adams formed a formidable rhythm section that worked together well in performing Haque's complex compositions. The talented Adams, of course, is well known as Al DiMeola's former drummer (an appropriate choice for the evening) and for his frequent appearances with top level acts around town. Austin was solid in providing the low end, while Bhattacharya created a sense of the exotic and provided some exceptional interplay with the other members, especially Haque, whose guitar playing evokes the sitar, even when he is not playing his 19-string guitar/sitar hybrid.

Rounding out the group, was pianist Willerm Dellisfort, and the young keyboardist's work was a true revelation. Combining a modern jazz Monk-like tonality with powerful, sensitive and inventive lines, Dellisfort was impressive in his ability to counter Haque's angular forays with compelling bursts and surprising directions of his own creation.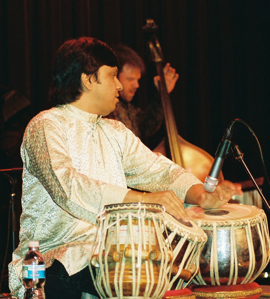 Several of his unexpectedly inspired outbursts elicited broad smiles from his band leader, who clearly enjoys interacting with other highly-talented musicians in a live setting.

Haque himself is a guitarist whose playing should be experienced by anyone with a love of stringed instruments. Starting out with mellow effected work that reminded of Bill Frisell, Haque moved through a number of styles that recalled other players like the aforementioned DiMeola, Pat Metheny, David Torn and John McLaughlin, while clearly charting his own course. Perhaps, the closest correlation would be John McLaughlin, but with a sense of humor, as Haque clearly enjoys his rock and roll, bhangra and funky grooves as much as his serious classical etudes. From blazing fast rock, Latin and classical riffs, to bluesy note bending, to soloing over a drone string (or strings) to jazzy inversions and chord choices, to an appropriate use of light and heavy guitar effects, Haque's mastery of the strings was central all evening, perhaps none more so than his intimate solo nylon string interlude.

Haque's compositions were as strong as his playing. From the moody, sultry, "Fur Peace" through the funky, fun "Big Bhangra" and the droning and appealing "Jamie's Jam" (the latter featuring Bhattacharya's tabla work and some lightning fast unison lines played by Haque and Delisfort). Haque's solo spot was highlighted by an exceptional performance of Isaac Aleniz's "Granada," while "Uneven Mantra" provided plenty of room for everyone to stretch out. The encore was a rollicking, hand-clapping number that started out as a tabla-driven exotic tune that unexpectedly morphed into high-energy, good-time rock and roll (Haque-style). As unconventional yet attractive as all of the music presented on this night, it was the perfectly logical way to end an exceptional concert from these highly-talented Chicago musicians.