Story and Photos by James Walker

The true testament of a band's worth can be measured by, not only its fan base and performance attendance, but by the number of colleague musicians who show up as patrons just to enjoy the music. That was indeed the case this past Sunday at the weekly edition of the Hyde Park Society's Checker Jazz set at the Checkerboard Lounge.

Phenom percussionist Ernie Adams assembled a star-studded quartet for an encore performance that was highly anticipated by the capacity crowd, and attracted no less than a dozen Chicago and national performing artists. It was truly a "Who's-Who" group that enjoyed every moment of this three-hour-long gig that eventually turned into a "jam session."

Ernie's ace bandmates included the well-traveled Harrison Bankhead on the upright bass; composer, producer and guitarist extraordinaire Henry Johnson; and the underrated keyboardist Charlie Johnson. What a well oiled unit, that worked as if they played together on a regular basis: they were that good!!!!!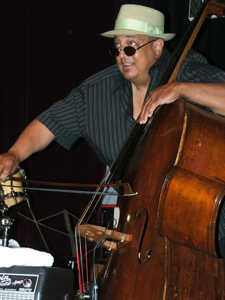 Adams adeptly opened the first set with a smooth extended solo on Herbie Hancock's "Maiden Voyage." He immediately set the mood for the evening and the challenge was on for his colleagues. These professionals didn't falter, as Bankhead got his fingers loose with a follow-up solo like a heavyweight boxer counterpunching an opponent after taking an initial barrage of hits. From that point on, this group didn't miss a beat.
They continued this mood with a nice rendition of "Caravan" with a Latin tinge. Ernie was all over the drum kit with sticks, hands, fingers, elbow... you name it, he used it. Although this was an "all star" band, it was quite evident who the front man was. When Ernie is in command of his solos, it's always within the framework of the melody; he doesn't solo just for the sake of soloing.
Duke Ellington's "Sentimental Mood" was next on the menu. Henry Johnson opened this number with a very well done solo, while Adams complemented Johnson's work with some smooth strokes with the brushes. But it was on this number that Johnson had his guitar "crying" with his sweet and tender strokes. The crowd simply loved this number that Ernie dedicated to pianist John Wright's friend, Jean.
It was Charlie Johnson's turn to shine as the band played "Footprints." The fleet-fingered Johnson was all over the keyboard with rapid-fire piston-like action. Not a key was "safe" during Johnson's all out assault on his instrument. Bankhead effectively used his bow on his bass while both Adams and Henry Johnson both displayed their skills on this highlight of the first set. Ernie lost a drumstick during this display, yet simply reached back for another one without missing a beat. This ended the first set to a well-deserved standing ovation from this appreciative crowd.
Adams promised some surprises for the second set and it didn't take long for the first guest artist to join the group. Pharez Whitted, one of Chicago's most respected veteran trumpeters opened the set with an extended solo. So much for warming up; Pharez was on "top of his game" from the onset. Not to be outdone, Henry Johnson followed with another fine solo, but it was Harrison Bankhead who stole the spotlight. During this number, he suddenly broke out in the chords to the "Star Spangled Banner." It was a delight to hear as he skillfully used his bow to get his message across to the crowd: It was well received.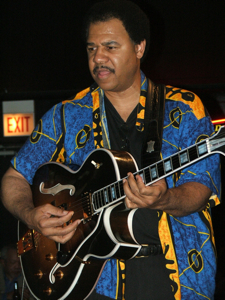 At this point, it was quite obvious these guys are simply having a great time. They continued to reach levels above expectations, as each musician engaged in hot solos on "Gingerbread Boy." It was at this point that Adams began inviting more guest artists to the bandstand. The first was a bassist from New York by the name of Jeff Hadley who was in town for a recording session with Adams. He was joined by Chicago's fine guitarist Neal Alger as the played a nice version of Henry Mancini's "Days of Wine and Roses."
They ended the second set with the beautiful ballad, "The Nearness of You." Ernie invited another guest from San Diego, former Chicagoan Bob Long, to jam on the keyboard. Again, the crowd gave the band another standing ovation as they concluded the second set. What a hot set! As Harrison Bankhead was leaving the bandstand, he was overheard saying "Man, that was a lot of fun!"
By now it was beyond the normal 11pm ending time, but Ernie promised a third set. Although the last set was played before primarily other musicians, this writer believes these guys just didn't want to "call it a night." They were joined this time by a couple of young musicians who picked up a couple of percussion instruments to just get in on the action. It was close to midnight now and they finally brought this marvelous evening to an end.
Wow!!!! Just when you think you've seen the Jazz Society's best set, they outdo themselves. It's becoming the rule, rather than the exception, that this HAS become the best Sunday Jazz set in Chicago. Of course, musicians love to work this room because of the appreciative crowd that it draws and the desire of other musicians to work the Checker Jazz set.
As always, please refer to the Checker Jazz Web site at www.checkerjazz.org for more in formation on future sets.