Story and Photos by James Walker

ETA's Music Mondays (second Monday each month) is increasily becoming one of Chicago outstanding jazz sets in a very relaxed and informal cabaret style setting. The most recent edition of MM was no exception. Chuck Webb and Margaret Murphy (Chuck's beautiful wife) dazzled the regulars with an array of contemporary and vocal jazz.

As usual at MM, radio personality Cliff Kelly (WVON) and Sue Conway, the Maven of the Mic, hosted this affair. In addition , Sue opened each set with some fine vocals. Sue (former backup singer for Roberta Flack) opened the first set with an upbeat selection, "Zippity Doo Dah." She chose this selection as it was a reflection of happy times for her in reference to Barack Obama's recent nomination as Democratic candidate for President.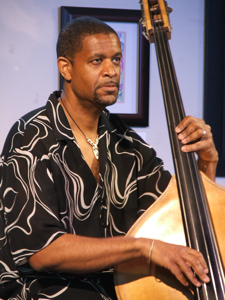 Bassist Chuck Webb, an original member of MM's house band, finally had an opportunity to showcase his varied skills on the upright and electric bass. Chuck is usually in the background, perched on a stool while complementing the featured artist at MM. Not on this evening!!!!!! This listener observed a different side of this veteran bassman. He was full of ane cdotes about his experience of performing with the likes of Ramsey Lewis and Grover Washington, in addition to displaying his"funk" side as a frontman.
They began their segment with the 'blues' oriented "Billie's Bounce". Chuck gave the audience a sample of what was to follow with an introductory extended solo, followed by soft brushing of the skins by drummer Khari Parker(on loan from duties with Boz Scaggs) and smooth tickling of the 88s by Mike Logan, one of Chicago's most underrated keyboardist.
Upon completion, Chuck tells the story of playing with Ramsey Lewis without sheet music. Ramsey had a songbook of 60plus songs and expected his sidemen to know each selection by memory. There was one number that Chuck hadn't learned and Ramsey promised not to play it. Of course during one of their sets, Ramsey began playing that song and looked over to Chuck and quipped "on the job training son." Lesson learned by Chuck, "open your ears and let it flow."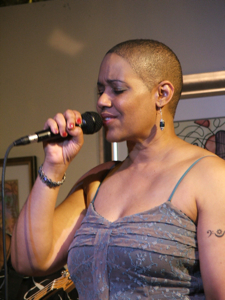 "Stella by Starlight" featured the keys of Mike Logan and fleet fingered Khari Parker on nice extended solos. Chuck concluded this number with some nifty finger work on the upright by sliding the strings to a nice crescendo. It was on the next selection that Chuck brought the funk out a la Bootsy Collins on the classic Beatle tune, "Come Together." It was done in another reference to Barack Obama when he made that historic speech in Philadelphia regarding race relations. Although this crowd tends to respond more to traditional jazz, it was ecstatic as Chuck combined uncanny speed and hornlike facility while seeming to gain energy as he forged ahead.
Before bringing his wife to the stage, Chuck dedicated "My Romance," played without accompaniment, to his better half. Throughout the evening, they demonstrated a natural chemistry while trading secrets about their romance and three year old marriage. The audience loved these sweet moments from their favorite musical couple.
Finally, the lovely Ms Murphy made her entrance to the spotlight. Margaret, charming and charismatic as ever rendered three beautiful ballads;, "Smile", "My Funny Valentine", and "Fly Me To The Moon" . Margaret is a pure entertainer who captivates an audience. . She has a strong instrument and uses her charm and wit throughout her performance. She's very expressive and to the delight of the audience ,gets the maximum out of each and every note.
The second set began with another uptempo tune by Sue Conway, "I've Got Rhythm." This was followed by the band's rendition of Grover Washington's "Winelight." Chuck dedicated this to the memory of Grover and talked about how Grover was so focused and played every song as if it was his last. Mike Logan used the keyboard to emunate Grover's sax sound. On this selection, Chuck really cut loose on the electric bass. This was as animated as this writer had ever seen this bassist. He's sooooo comfortable with this instrument. Parker also displays his skill while attacking the drum kit to the delight of the crowd.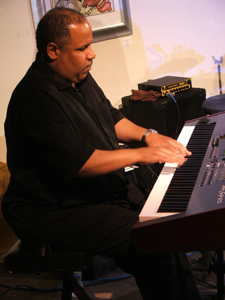 Margaret again joined the band for a few more selections. She sang a beautiful version of "Come Home To Me," which is on her new Chuck Webb produced CD. The two "love birds" collaborated alone on Sade's "Pearls." Margaret rendered this lovely ballad with conviction and emotion. This was a special moment of this wonderful evening.
Conway returned to the stage for a duet with Margaret on a very unlikely Blues selection, "Meet Me With Your Black Drawers On." They had fun with this song with Conway making up lyrics as they she went along. The "old school"crowd simply went wild. They loved this blues tune.
Another wonderful MM was brought to a climatic conclusion with Margaret singing Billie Holiday's "God Bless The Child." Mike Logan had another highlight solo before Sue Conway spontaneously jumped in to "get a piece of the action," along with these two songbirds encouraging the audience to join in. This was perhaps the finest vocal moment of the evening, but it must be acknowledged that this evening was Chuck Webb's "coming out party." Known throughout the Chicago area as an outstanding sideman, Chuck demonstrated on this evening that he can hold his own as a leader with the best. Let's hope that Mr. Webb will continue to front a band in addition to his continued duties as a member of MM's 'house band.'
The next edition of MM will feature vocalist Kenneth Fobs on July 14th. For detailed information about future MM sets, refer to ETA's website at www.etacreativearts.org/.