Story and Photos by James Walker

Sunday's Hyde Park Checker Jazz set at the Checkerboard was full of surprises and guest artists. Headliner saxophonist Diane Ellis and the "Jazzy Ladies" experienced a few rough moments at the start with the sound system but once it was resolved, they jammed all night long.

What an unusual sight to see a jazz quintet consisting entirely of females. Chicago has outstanding female instrumentalists, but seldom does one have the pleasure of seeing such an aggregate on one stage. In addition to Diane, the group consisted of Sherri Weathersby-Green on bass, Andrea Moore on Keyboards, Barbara Burton on drums, and Kamilah on flute and vocals.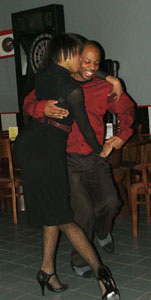 The set started with a beautiful ballad, "Moonlight Serenade". This was followed by "My Funny Valentine" featuring Kamilah on vocals. Unfortunately, this lovely standard left a little to be desired as Kamilah's vocals were a little "pitchy". Perhaps the problems with the sound system during the first set was a contributing factor. Nevertheless, Diane's extended solos saved this number.In this writer's opinion, this standard would have been better served without vocals.

Not to be deterred, Kamilah took to the mic again with a very nice rendition of "Route 66." This "bluesy" tune was more appropriate for her range and style. It was during this number that she brought the crowd to its feet when she grabbed a towel and expertly did her Louie Armstrong imitation. The crowd continued to respond to this song as bassist Sherri Weathersby-Green displayed her skills with a vibrating solo. Throughout the evening, Sherri combined uncanny speed an horn like facility while gaining energy from the positive response from the appreciative crowd.

The band concluded the first set with "Little Room For Love" and "Teach Me Tonight." On both numbers, Diane demonstrated some fast, crisp blowing highlighted by a bold attack on each note. She dedicated the later tune to her mother, who was proudly enjoying each note being played.

During intermission, Ernest Williams, president of Tango Life Inc. gave a demonstration and historical perspective of the "Tango," and how this dance began in Argentina with Africans during the slave trade era.It was quite interesting and enlightening as several couples demonstrated different styles of tango. For detailed information about the Tango and upcoming participatory workshops, log onto "tangolifeinc.com."

The second set began with the first guest artist taking the stage. Steel drummer Tony Smith played "All Day All Night Mary Ann" with the rhythm section. What a pleasant surprise to see this unique Caribbean instrument being played with a jazz band. Tony would later join the entire band during the night's finale.

With the horn section returning to the stage, drummer Barbara Burton was featured on "Heavy Weight." She displayed quick hands that allowed her to react strictly in the moment. Flautist Kamilah experienced perhaps her finest moment of the evening during this number with some passionate blowing, going into overdrive above the riffing rhythm section.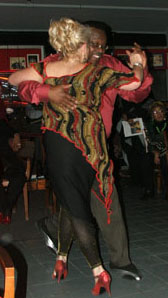 Diane interacts with the audience telling anecdotes, and shared the story about meeting Saxophonist Sonny Stitt at Gene Ammon's funeral when he played "My Way". When Sonny passed away, Diane in turn played the same tune at Sonny's funeral. Needless to say, she passionately played this lovely ballad from the heart, digging deep into her soul as the crowd roared its approval.

Another bright moment of the night was the appearance of "Harmonica" Bob Ellsworth with the band. Ellsworth's rendition of "Misty" was highlighted by some exceptional harmonica playing and friendly bantering between Bob and Diane. This "call and response" had the audience begging for more at its conclusion.

Keyboardist Andrea Moore finally had an opportunity showcase her skills as she was featured on "Brooklyn Heights." While the 88s were still hot, guest keyboardist Bethany Pickens took over with a stirring solo on "Blue Bossa." Bethany, daughter of renowned pianist Willie Pickens, played with a valiant spirit, demonstrating rapid-fire lines and repeated licks that again elicited a rousing ovation from the appreciative audience.

The second set came to a climatic conclusion with Harmonica Bob and Steel Drummer Tony Smith returning to the stage to jam with the band as they played "Vickie", a song written by Jimmy McGriff for his daughter. With all having opportunities to solo, this finale was befitting another very entertaining and enlightening evening of jazz at the weekly Hyde Park Jazz Society's Checker Jazz Set at the Checkerboard Lounge.

Next Sunday's set(2-24-08) promises to attract another "SRO" crowd, as Chicago's "Jazz Entertainer of the Year", vocalist Dee Alexander,takes centerstage. This promises to be one of Checker Jazz's highlight concerts of the year,so it's advisable to arrive well in advance of the 7:30pm start time to be assured admittance. This set will be a sellout!!!!!

Check out CheckerJazz.org.