Story and Photos by James Walker

Hyde Park Jazz Society's weekly Checker Jazz set at the Checkerboard Lounge ventured into virgin territory on Father's Day. You see, they booked Jeff Lindberg's Chicago Jazz Orchestra's 16-piece band that could not even fit on the bandstand. The bassist and drummer had to assemble slightly to the right of the stage in this fabled blues club, but it didn't hinder their magnificent performance, nor did it deter the enthusiasm of another capacity crowd. What a coup for the Jazz Society to convince Jeff Lindberg to bring his world famous orchestra to this increasingly popular South Side venue. Needless to say, the sophisticated Chicago audience didn't miss the opportunity to see this group in a nightclub setting. Lindberg even commented on the relative intimacy of playing in a "nightclub," as opposed to their normal large auditorium and concert hall environment.

They opened with "Blues for Basie," featuring Art Hoyle on the trumpet. Art, a veteran Chicago Jazz ensemble member, was at home at the Checkerboard, as he recently led a tribute set for trumpeter Sonny Turner at this same venue. They followed that selection with a Jimmy Heath-arranged Charlie Parker tune entitled "Red Cross." Lindberg indicated Heath had rearranged many of Parker's songs.

Before the crowd was serenaded by the sassy vocalist Freida Lee, Chicago Horns saxophonist Hank Ford was featured on Errol Garner's "Misty." Ford, a special guest artist with the orchestra, was simply magnificent on this selection, as he was all night long. He received a standing ovation from the audience, as he concluded the sweet standard.

This was a great segue for the classy Freida Lee to make her entree.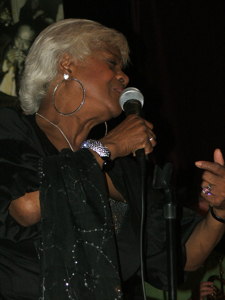 Ms. Lee has performed with the Chicago Jazz Orchestra about 20 years and adds style to this award-winning band. Beautifully attired, this veteran vocalist simply had the crowd in a trance as she belted out such standards as "I'm in Love With You," "The Very Thought of You" and "I've Got a Crush On You." It was on this number that she electrified the crowd with a call and response with Hank Ford. It was absolutely the highlight of the first set.

The first set concluded with a few selections of the "Big Band Masters," Duke Ellington and Count Basie. They played "Take the A Train," "In a Mellow Tone" and "One O'Clock Jump." Tenor saxophonist Bill Overton was featured on several of these selections, as well as on others during both sets.

The second set opened with a couple of Basie tunes, "Sweet Georgia Brown" and "Blues in Hoss' Flat." Again, Hank Ford and trombonist Scott Benthall were featured. Ford also showcased his varied skills on Duke's "Cop Out." He again brought this attentive crowd to its feet.

The golden velvet sounds of Ms. Lee rendered selections from Sarah Vaughn and Ella's songbook. She sang "Do I Want You," "If You Could See Me Now," "All of You," and concluded this sultry segment with "I Got it Bad (and That Ain't Good)." Watching this veteran songstress on stage was reminiscent of the golden days of the Cotton Club in New York and Club Delisha in Chicago. What a performance!!!!!!! The crowd loved every precious moment of the "Sophisticated Lady."

This delightful evening was brought to a climatic conclusion with Duke's "All Heart," which featured Shorty Baker on the trumpet. What an honor to be entertained by one of Chicago's premier large bands. How fortunate to still have the CJO, in addition to Jon Faddis' Chicago Jazz Ensemble and Orbert Davis' big band in the same town. Who said the big band era was over? CJO will be performing with Freddie Cole at the Millenium Park on August 21st in a tribute to Nat King Cole. They will also perform at the Kennedy Center in Washington, D.C. this fall for the 21st consecutive year. What an honor!!! The next edition of Checker Jazz will feature Chicago's premier pianist, Willie Pickens on June 28th. This promised again to be a SRO crowd, so don't dare to be late. For detailed information on future Checker jazz sets, refer to their Web site at www.checkerjazz.org .