Story and Photos by James Walker

Charming Chris Botti quipped with the crowd, bantered with his extraordinary band mates, and turned the nearly sold out Chicago Theater into an intimate environment. It was like sitting in one's living room and having a private conversation with one of the world's most "romantic" contemporary jazz performers.Perhaps that's an inappropriate genre to attach to Botti's music because he no longer is just associated with "smooth" jazz. He has "crossed-over" into mainstream jazz with a touch of classical sounds.

Last Friday night during his two hour post Valentine Day concert , the cool Botti took his time enlightening the audience before or after each number. The crowd didn't seem to object as Botti and his sidemen had this audience ecstactic from the opening number of "When I Fall in Love" to the finale of "One for My Baby, One for the Road."

For most of the evening, Botti highlighted his highly acclaimed Grammy nominated CD "Italia." He joked about not understanding how he, Dave Koz, and Kirk Whalum, lost to none other than the Beastie Boys at this year's Grammy Awards. Nevertheless, he didn't allow this "setback" to interfere with the "love affair" that he and his exceptional band engaged in with the audience.Throughout the evening, he wasn't shy about sharing the spotlight with his band that consisted of Peter Learner on the keyboards, Billy Kilson on drums, Reuben Robbins on the bass and the sensational Mark Whitfield on Guitar. They were joined during the set for a couple beautiful numbers from the lovely Sy Smith.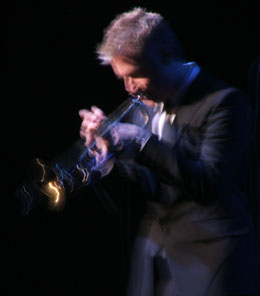 Whitfield, outstanding from start to finish , is a highly acclaimed guitarist who emerged on the jazz scene in the early 90s with the likes of "young turks" Roy Hargrove, Antonio Hart, Christian McBride, among others. He was tagged as a "jazz future" and has lived up to that reputation. This fleet fingered guitarist when not bantering with Botti was demonstrating his skills during extended solos on "Flamingo Sketches,"(Miles Davis tune), "Mission"(from Italia CD), and "Good Morning Heartache"(with vocalist Sy Smith). He's such a charismatic person, full of energy and vigor.

Other highlights included the sultry vocals of Sy Smith on "The Look of Love," "Good Morning Heartache," and "What Will I Do." She ended this number without the aide of a mic, sounding like the late Minnie Rippleton. Ms. Smith can be seen weekly as a background singer on the season's American Idol.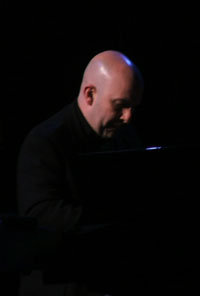 Percussionist Billy Kilson kept beautiful time on the drums and really "killed" with an extended solo on "Indian Summer." He used every piece on his drum kit without loosing the continuity of the melody. This brought the crowd to its feet for a well deserved standing ovation.

Bassist Reuben Robbins, switching between the upright and electric bass, performed admirably throughout the evening along with keyboardist Learner. These guys all played so well together,making it easy for Botti to stand to the side and watch his mates make beautiful music.

Nevertheless, let their be no mistake about the star. Chris Botti was shinning all night. This concert was so appropriate for Valentine's Day for it consisted of such serene sounds. Chris is really a balladeer with his horn, always in complete control. His music, which is quite romantic, puts one in the mood for love. He even came into the audience to serenade an older lady with his rendition of "Love Theme" (from his When I Fall In Love cd) . She was mesmerized and never took her eyes off the charming Botti. Although Botti performs over 200 concerts a year, he appeared to be very fresh on this evening, sincerely connecting and interacting with the audience. Even though it was again very cold and frigid outside, Botti kept the crowd very warm inside with his sultry sounds. Chicagoans, being the great music fans they are, never let a little inclement weather interfere with another evening of phenomenal jazz.