Story and Photos by James Walker

It's often stated that sequels seldom,if ever,match the original piece of work that it's attempting to replicate. That was the dilemma the Awakening II encountered when Pianist Ken Chaney and his exceptional band mates of saxophonist Ari Brown, Trombonist T.S. Galloway, bassist Josh Ramos, drummer Ernie Adams and trumpeter Corey Wilkes, faced Sunday night at the weekly installment of Hyde Park's Jazz Society's Checker Jazz Set at the fabled Chcekerboard Lounge on the City's Southside.

Playing before a sellout crowd (many waited outside for admittance to the second set), this masterful group of musicians quickly erased any doubts about their ability to replicate the original piece that was performed in late March at Sherman Park as part of Jazz Institute's JazzCity Series. The original group, formed in the 70s consisted of current band members Ari Brown, T.S. Galloway, and Ken Chaney in addition to Frank Gordon, Oscar Brashear, Rufus Reid, John Whitfield, and Reggie Willis. This original group recorded two albums, Mirage and Hear, Sense and Feel. Much of what was played this evening was from that latter album. Ken Chaney indicated their original concept was "to perform just a little more experimental music than the mainstream without being avant-garde, but also not being mainstream."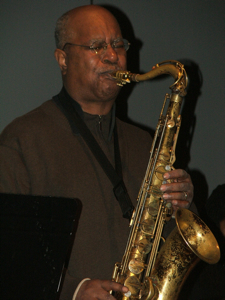 The set got off to a rousing start with Chaney's Spring Thing. T.S. Galloway and Ari eased the audience into the performance with smooth solos before Ari decided to really warm things up with some hard swinging technically adept sax that Ari is oh so capable of delivering. This was followed with banging extended solos by Chaney, Wilkes, Ramos and Adams. What a start!!! They already have whipped this excited crowd into a frenzy.

Chaney told the crowd he wanted to take them on a journey to his neighborhood as the band began playing another Chaney composition entitled "Bronzeville Blues." Wilkes, one of Chicago's finest musicians, started this number off with an extended solo blowing bright trumpet flourishes with his signature bold attack on each note. Ari continued this approach with rapid baritone/bellow like sounds emitting from his tenor as only this virtuoso is capable of producing. This solo brings some in the audience to their feet. It was T.S.'s turn, as it's now apparent that each member is feeding off the energy of the previous soloist. It's so nice to hear the rare trombone sound in a small ensemble. T.S. is one of the best and on this evening, he did not disappoint. Not to be outdone, "Professor" Chaney got a piece of the action and by now the crowd is into every note being produced by this imposing group of musicians.

They slowed the pace down(they deserved a breather at this point) on T.S. Galloway's "What a Joy." Brown dedicated this composition to his wife. This was a beautiful ballad that allowed everyone to relax for a few minutes. It was followed by Brown's "Miles Like." Just as was the case in the Awakening I performance, this somber paced piece seemed to bring the crowd down a bit. Especially following a ballad, the audience seemed to lose some the energy that had been produced up to this point. This group seems to really hit their peak when performing up tempo numbers that allows them to gain energy from one another.

Nevertheless, they regrouped and concluded the first set with T.S's "Soul Afroesque." Brown, Wilkes and T.S. each had extended solos on this number, but it was the incomparable charismatic hard working drummer Ernie Adams who was featured on this off beat, up tempo number. Adams is such a delight to watch as he's perpetually in motion with hands, arms, legs and head all moving at the same time. He certainly distinguished himself on this song with the crowd spontaneously standing at its conclusion to demonstrate its appreciation for the veteran drummer's work.

The second set began with Wilkes being featured on "Hit Me." He demonstrated his patterned run on this number as they all seem to be much comfortable on the uptempo beats than the ballads. They were feeding off of one another. Ramos experienced his finest moments with thoughtful stroking of deep tones on his upright. The crowd was really turned on at this point.

"Richard's Tune," Brown's composition that was recorded by the late Gene Ammons in the 70s again featured Mr. Brown himself. This was just one of the many examples of the compositional skills of Brown, Galloway and Chaney, as according to Mastreo Chaney, this was just a sample of work that they have composed over the years.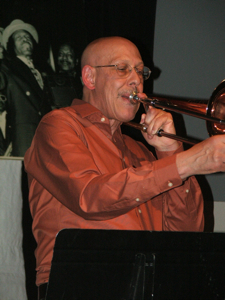 Galloway's "Lady Marion," written for his wife, featured the muted horn sound of Corey Wilkes. This number allowed "Professor " Chaney an opportunity methodically perform "surgery" on the keys. He so softly, but with purpose and meaning, tickles the 88s without a lot of body movement or motion. He's always thoughtful, creative and refreshing while building momentum with rapid fire lines and repeated licks. He's the consummate leader who usually introduces the theme and act as a catalyst for his impressive colleagues.

The second set was brought to a climatic conclusion on the final number, Brown's "A Groove Awakening." Chaney had a nice solo softly tickling keys with meaning and purpose. Brown, displayed his skill on the soprano sax while Wilkes "hip hop" background came out with a solid uptempo chord that he often produces when he fronts his own band. Young Ramos also was at his best on this number. And to top it all off, Mr. Adams fueled the proceedings with his attack of the drum kit using each piece of metal and skin he could find during this all out assault and power-prescision drumming. Every part of Ernie's body was in perpetual motion, as was the case with the audience. Hands were clapping, feet tapping and heads shaking as this evening of great music was brought to an apex. Included in the audience tonight was a "Who's Who" in Chicago music. Enjoying the festivities were pianist Willie Pickens, his daughter pianist Bethney Pickens, vocalists Tammy McCann, and Loretta Lee, bassists Frank Russell and Cecile Savage and pianist John Wright. Fun was had by all.

In conclusion,although this performance may not have reached the crescendo of Awakening I back in March, nevertheless it was Damn close. Let's hope this isn't the last that we have heard from this aggragagte and perhaps a future CD and or DVD can be their next project. They owe it to themselves and the public to preserve this music forever.

Next week's Checker Jazz set promises to be outstanding as Bill McFardland and his Chicago horns take their turn at the Checkerboard Lounge on May 11, 2008. For future CheckerJazz concerts check out their Web site at www.checkerjazz.org.