Story and Photos by James Walker

The Hyde Park Jazz Society's weekly CheckerJazz set on Sunday, May 18, 2008 at the Checkerboard Lounge wasn't just the typical jazz gig, it was an occasion to pay homage to one of Southside's veteran jazzman, Earl 'Sonny' Turner. This trumpeter held a master's degree from Tennessee State University and taught music in the Chicago city schools , in addition to playing along side the likes of Red Saunders, Sonny Stitt, Capt. Walter Dyett, among others. Turner, dapper as ever, was accompanied by many friends and relatives.

Trumpeter Art Hoyle, another veteran Chicago horn player was appropriately chosen for the musical tribute to Mr. Turner. Hoyle's impressive resume includes work with Lionnel Hampton's big band,and the Sun Ra Arkestra. On this evening, he assembled an impressive group of sidemen to assist in paying tribute to Sonny Turner. Included was Robert Shy on drums, Danny Shapario on bass, Bradley Williams on keyboard, Dr. Otis Williams III on trumpet and Pat Mallinger on the Sax. And if that wasn't impressive enough, Chicago premier saxophonist Eric Schnieder and silky smooth vocalist Everett Greene joined the fray during the second set.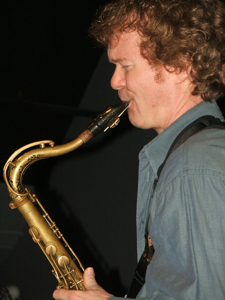 Playing before another capacity crowd, Hoyle and his band mates opened the set with each member having "warm up " solos with drummer Robert Shy wasting little time establishing his explosive nonstop drumming during this inaugural number.

Miles Davis' "But Not For Me," followed with mellow tenor solo by Mallinger and trumpeter Williams. Mallinger then excited the crowd with a stirring solo on "Back Home In Indiana." It's apparent that this South side audience is witnessing Mr. Mallinger for the first time and he has already captured their undivided attention with his solid blowing. Mallinger plays all over the Chicago area, but in recent years, he's held down the late night weekend "Sabertooth" set at the Green Mill.

The group slowed the pace down with Billie Holiday's "Hush Now,Don't Explain." On this number each ensemble member took turns playing the lead off of the original melody to this beautiful ballad. These guys are in a groove with some fine down the earth playing. The crowd is really enjoying each and every note.

They completed the first set with each member taking the lead on a medley of songs including "Prelude to a Kiss," "Hush Now," "Mood Indigo," and "Body and Soul." This unique segment was very well done which resulted in a standing ovation from this "old school" crowd.

As previously mentioned this night was a tribute to Sonny Turner along with other prominent members from the Chicago jazz scene.Geraldine Bey DeHass, Jazz Unites president and long time organizer of the South Shore jazz festival was presented a plaque. Clarence Williamson, Jazz Unites vice president accepted on her behalf. In addition, vocalist Lady T presented awards to Mrs. Artelia 'Teri' Seals, widow of Steele 'Sonny' Seals, and Mrs. Barbara Young, widow of bassist Eldee Young.

Grady Johnson, saxophonist and pharmacist, introduced and paid tribute to Sonny Turner.

The second set began with another outstanding extended solo by Pat Mallinger on Miles Davis's "Walkin'." Although this was an Art Hoyle led group, he allowed all the sidemen ample opportunities to express themselves and Mallinger took full advantage of his solos while winning over new fans.

Vocalist Everette Greene had the crowd begging for more after he completed his two silky smooth songs including "There Will Never be Another You." Although Chicago is noted for its abundance of great female vocalist, with the exception of Kurt Elling, male vocalists are lacking. It really was refreshing hearing this Joe Williams-sounding baritone. In addition, saxohonist Eric Schnieder also sat in during this segment. By now, this has really become an all out jam session.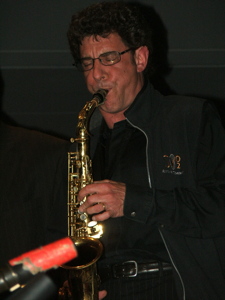 On another Miles Davis tune, "Dig," Schnieder and Mallinger engaged in some friendly robust "give and take" with their horns. Drummer Shy joined in with his finest moment and this became one the night's highlights.

They concluded the second set with what Art Hoyle called the "South side theme song," "Red Top." This Gene Ammons/Sonny Stitt selection resulted in a great jam session by all. What a way to end an exceptional evening of great music by all as these veterans who came together to pay homage the veteran southside trumpeter, Earl Sonny Turner.

Again, kudos to Hyde Park Jazz Society for not only its continuous display of some of Chicago's finest musicians at its weekly Sunday nite set, but also for having the foresight of paying tribute to some of Chicago legends, alive and deceased. Often we forget to honor those who paved the way before us, but not this group. They continue to show their appreciation for not only the great music of this city, but also for those who made it possible for all to enjoy.

Don't miss the next edition of Checkerjazz with the incomparable Trumpeter, Corey Wilkes taking center stage on Sunday June 1, 2008. This is one of those gigs that will require an early arrival for those seeking a good seat. As always, refer to their website at checkerjazz.org for details of future events.

On a personal note, if this writer isn't present at Sunday's set, it's the result of completing the 2 day, 39-mile Avon For Breast Cancer Walk in Chicago. For additional information, refer to my message at the bottom of this page.