Story and Photos by James Walker

With last Sunday's Checker Jazz set at the Checkerboard Lounge falling on Easter, members of the Hyde Park Jazz Society were naturally concerned about how well this event would be attended. Fans were slow arriving, but by 7:45pm, the house was beginning to fill to witness one of Chicago's finest musicians, multi-reedist Ari Brown. Although Ari had appeared here in early January, he agreed to replace trumpeter Corey Wilkes, who had an unexpected engagement in New York. Nevertheless,with Ari being a Checker Jazz "favorite son," the veteran Southsider was able to attract a very respectable crowd on this most sacred day for Christians. He was accompanied by the "usual suspects" who have played with him for over a decade: his brother pianist Kirk Brown, bassist Yosef Ben Israel and drummer Avreeayl Ra. Rounding out the group was percussionist Dr. Cuz, who also appears on Ari's critically acclaimed 2007 released CD/DVD - "Live at the Green Mill."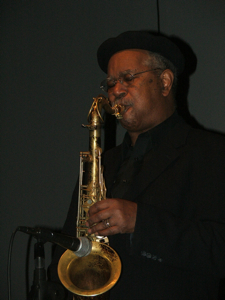 Ari started the set with a beautiful rendition of the standard "Autumn Leaves". Ari especially took pleasure in playing this piece because it featured his alto sax, which he doesn't often get an opportunity to play. Ari's very smooth on this standard, with Dr. Cuz providing a nice complement to Ari's lead. As a matter of fact, Dr. Cuz distinguished himself throughout the entire evening on the congoes. Also on this number, Kirk Brown provided an extended solo in the steady mode that he's noted for. Kirk never seems to exert himself, yet he maximizes the sound from the keyboard. Ari seamlessly "handed off the lead" to both Avreeayl and Yosef during this number, allowing all members of the ensemble to share in the early spotlight.

Ari is always a wealth of information during his performances and tonight was not an exception, as he introduced the next selection entitled "Quilee." He dedicated it to longtime friend, and premier Chicago pianist, Willie Pickens. While touring Europe years ago with Elvin Jones, Willie and Ari occasionally had difficulty communicating with others and would often respond to comments by saying "quilee." Again, the unpretentious Kirk Brown demonstrated his masterful skill on the keyboard with rapid-fire lines and repeated licks during his solo opportunities.

Without establishing the melody, Ari began Duke Ellington's "Sentimental Mood" with an extended introductory solo. This serene ballad was complemented by the soft brushing of the skins by Avreeayl. This standard was well received by the appreciative audience. They concluded the first set with one of the few songs from Ari's "Live" Green Mill CD (one of JazzChicago's Top-10 albums of the year) called "Shorter's Vibe." This number has a "Latin tinge," and afforded Dr. Cuz the chance for a commanding solo, full of ideas and played with the beautiful sound on the congoes that he exhibited throughout the entire performance. Also, Ari performs thi song with the mellow soprano sax.


The second set began with the standard, "Softly in the Morning Sunrise" and showcased the deep bass tones of Ben Israel. This veteran bassist doesn't often receive the recognition that he deserves but on this piece he shines. He never seems to seek the spotlight,yet is always in complete control. He is the perfect complement to any jazz band.

Arguably, the absolute bright spot of the entire evening came, when the entire band reached a compelling high on the number "Where Do You Want To Go?" Ari, a la Rashaan Roland Kirk, picked up both the soprano and tenor, simultaneously blowing fast, bright flourishes with his signature bold attack on each note. This is a moving, pulsating post-bop vibe, and had the entire ensemble on "auto pilot." It was infectious, with all playing parallel parts without sounding busy. Toward the end of this number, Ari was even "scatting" through the tenor. Needless to say, the crowd spontaneously responded with a rousing ovation.

Before concluding another successful Checker Jazz evening at the Checkerboard, Kirk Brown introduced aspiring new vocalist Chet Fisher with a beautiful baritone sound for his rendition of "Lush Life." This young man left the audience longing for more. Watch out for him in on the Chicago Jazz circuit in the future.

The Brazilian sound of Paulinho Garcia, Scott Burns,and Hector Garcia will be featured Sunday, March 30th at the Checkerboard. For detailed information about future CheckerJazz set refer to their website at: www.checkerjazz.org.