Story and photos by James Walker

Dave Holland appearing before a standing room only crowd at the Jazz Showcase Sunday night was outstanding, along with a group of exceptional sidemen (Saxophonist Chris Potter was unfortunately unable to perform due to illness). Despite Potter's absence, trombonist Robin Eubanks (Tonight Show's bandleader Kevin Eubanks' brother) did double duty and was in rare form.
On this night, he could not be considered just a "sideman." Eubanks - clearly solos that were intended for Potter, along with those intended for himself displayed special ability. He carried this quartet even though Holland, Vibist Steve Nelson, and drummer Nate Smith needed little assistance. These musicians were in complete harmony, even without Potter.

Holland is to be applauded for his willingness to "share" the stage with his colleagues. He truly recognizes the value in highlighting his "sidemen" without his own ego getting in the way. Nelson displayed a lot of energy, to go along with ability to master the vibes. Also drummer Smith, composer of several tunes played this evening, was superb. His skills were demonstarted during the end of the final set with the fastest hands I've seen in quite some time. Finally, although Holland's group all performed exceptionally, he ocassionally reminded us with his smooth, yet eloquent stroking of the bass, just who was in charge.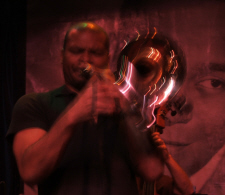 Chicago jazz lovers, please continue to support the Jazz Showcase. As most of you know, proprietor Joe Segal is searching for a new home. He lost the lease on his current facility and is scheduled to close the end of December. In the interim, in addition to his regulatr weekly display of national talent, he's having a series of Monday night sets through the end of the year to defray reloaction costs. All sets are only $15,00 and start at 8:00pm (a complete schedule can be found at the Jazz Showcase website http://jazzshowcase.com/). Let's support this endeavor and not let Chicago's only Jazz club "where the heavies perform" die!