Astral Project
Concert
University of Chicago

| | |
| --- | --- |
| Astral Project | James Singelton |
Story and photos by James Walker

The Astral Project recently returned to Chicago for a series of sets. This exciting, inventive group from New Orleans concluded their Chicago area performances on Sunday Nov. 5th at the University of Chicago Fulton Recital Hall before a small but appreciative audience. They played music from Cannonball Adderly to John Coltrane.

This cohesive quartet that's been playing together since 1978, perfromed songs from their 2004 "The Legend of Cowboy Bill" CD, in addition to many new unreleased tunes.

Leader and saxophonist Tony Dagradi throughout this afternoon set showcased his brilliant improvisation skills with a mix of funky rhythms and smooth melodies.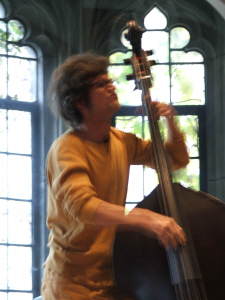 Dagradi at times stepped back and allowed bassist James Singleton, guitar player Steve Masakowski, and drumer John Vidacovich take turns soloing. These guys know just when to stay out of the way of the music and not "step on" each other.

I particularly enjoyed watching guitarist Masakowski stroking his seven string guitar with eloquence and ease. Often guitar players work too hard at their craft, but that was not the case with Masakowski. He got his "message" across to the audience without drowning out his colleagues. Bassist Singleton and drummer Vidacovich were also outstanding.

In addition to their hour-long set, they also conducted a clinic primarily intended for U. of C. students.

If you haven't taken advantage of these outstanding free concerts at the University of hicago, don't miss the next set on Thursday, Nov. 30th at 8pm in the Fulton Recital Hall, 4th Floor (1010 East 59th Street). Mwata Bowden, Music Director at the U. of C. will be conducting a group of musicians featuring music of Fletcher Henderson (Swing innovative band leader of the 1930's) and living legend saxophonist Franz Jackson. You don't want to miss this set.
| | |
| --- | --- |
| Tony Dagradi | Steve Masakowski |
Check out other recent concerts reviews and photos