Story and photos by James Walker

On Thursday Oct. 19th, the University of Chicago's Department of Music presented an exceptional array of new/experimental jass organized by Mwata Bowden, renowned reedman, well known throughout Chicagoland, along with Janice Misurell-Mitchell, Artistic Co-Direcor of CUBE Contemporary Chamber Ensemble in Chicago.

The pre-concert panel discussion with Bowden, Misurell-Mitchell, and bassist Tatsu Aoki was very enlightening and informative. This informal "discussion" gave those in attendance rare insight into their music and instruments. this was follwed by a unique concert perfromed by three ensembles.

JASC TsuKasa Taiko (Japanese American Service Committe of Chicago) started the set with Taiko drummers Hide Yoshihashi and Amy Homma, along with bassist Tatsu Aoki, and multi reedman Bowden. The ensemble highlighted the skills of drummers Yoshihashi amd Homma. These two excellent musicians can often be seen at the Hot House on Mondays jamming with Yoko Noge's Jazz Me blues. TsuKasa Taiko offers an opportunity for all people to learn about the rich artistic japanese heritage represented by this unique music.

Flutist Misurell-Mitchell, along with percussionist Avreeayl Ra followed. Avreeayl Ra is another one of those renowned Chicago musicians often seen performing with many experimental jazz ensembles.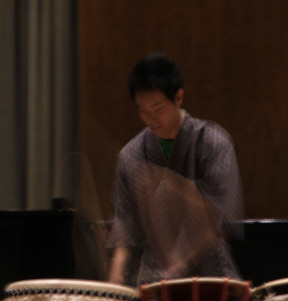 This evening's array of music was concluded with a set, including jazz vocalist extraordinaire Dee Alexander, reedman Edward Wilkerson, pianist Ann Ward, along with the previously mentioned Aoki, Bowden, Ra, and Misurell-Mitchell. This was a truly unique set that highlighted the superb voice skills of both Misurell-Mitchell and Alexander. Most Chicago jazz fans are very familiar with Alexander's vocal talent, but on this night, she engaged in vocal "conversation" with Misurell-Mitchell, which was both thought-provoking and entertaining. This dramatic vocal presentation left those in attendance longing for more.

Overall, the University of Chicago's attempt to stretch jazz in a new direction was both entertaining and at times very complex. This set was not for everyone, but those in attendance left completely satisfied.

Keep an eye open for future jazz sets at the University of Chicago, or those sponsored by the Chicago Association of Creative Musicians (AACM) throughout the Chicago area.